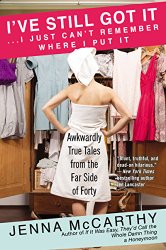 Just in time for leisurely summer reading comes Jenna McCarthy's newest book, another collection of humorous stories that explore universal experiences from the perspective of one hilarious woman who has no reservations sharing personal details… that most often make you laugh even harder. In I've Still Got It… I Just Can't Remember Where I Put It: Awkwardly True Tales from the Far Side of Forty, McCarthy tackles a variety of topics that people in, or approaching, middle age will understand, even if they're also in denial about what actually constitutes "middle age." Just as in her previous (also super-long-titled) book, If It Was Easy, They'd Call the Whole Damn Thing a Honeymoon: Living With and Loving the TV-Addicted, Sex-Obsessed, Not-So-Handy Man You Married, (linked to my review), her own real life becomes fodder for laughter-inducing essays that encourage readers to chuckle both along with her and at themselves.
Right from the beginning, McCarthy is upfront about her writing style– unabashedly honest, slightly sarcastic, and peppered with (perfectly placed, in my opinion) bits of profanity. And if the Disclaimer that opens the book doesn't make it clear that the following chapters will definitely "go there," then the Introduction entitled "You're Only as Old as Your Vagina" should do the job. I am not exaggerating when I say that I was crying tears of laughter before I even made it to the first chapter.
I might not have hit forty yet, but I can already relate to many of the topics McCarthy touches upon in her exploration of getting older, from the personal health realm to the world of marriages/long-term relationships. Some tidbits left me feeling redeemed, for it was lovely to learn that I'm not alone in my particular craziness like saving all of my children's baby teeth (no logic to it, but I just can't bring myself to throw them out!) to packing away those pregnancy sticks in a box of baby mementos. (They're capped at least!) I like to think that if I lived in Jenna McCarthy's neighborhood, we'd be hanging out (not) drinking on a weekday night, wearing our yoga pants (that have never seen a yoga class), and listening to rocking 80s hits. Pack this one in your pool bag and be prepared to ignore the odd glances you get when you're cracking up!