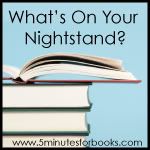 I remembered this month! I hope that you are all excited to post about your summer reading goals for this month or fill us in on the books you've already been able to read this summer.
After an incredibly busy April and May, I have welcomed June with gusto! Since I spent a week at our junior high church camp last week, after I did some laundry and restocked the fridge, I've focused on — nothing. My goal this week is to take it easy and enjoy reentry. Taking it easy for me means lots of reading on my favorite sofa or the chaise lounge in the backyard.
I'd love to hear what you're reading. Please write up a post and link it below, or leave us a comment below.
Check out our current giveaways. Subscribe to our feed. Follow us @5M4B on Twitter or on Facebook.