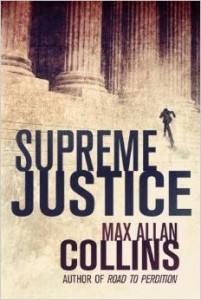 Joe Reeder is persona non grata in Washington, DC. Though he was a Secret Service Agent who took a bullet for a president, the fact that he quit after a month of desk duty, his only possible assignment after the damage the shot did to his shoulder, wasn't a popular one, especially since he made it known that he wasn't a fan of the president he saved. When a DC cop friend of his begs him to review footage of a robbery gone bad in Supreme Justice by Max Allan Collins, everything changes.
Reeder had formed a successful company, ABC Security, where he uses his skills in kinesics to read body language to great effect. The robbery gone bad involves the death of a Supreme Court Justice who had been having a drink with one of his clerks when two masked gunmen entered and demanded everyone's valuables. As Justice Henry Venter starts to stand when the gunman has his pistol trained on the clerk, the gunman whips it around and shoots Venter.
Reeder sees the footage and after watching it several times notices that Venter isn't standing like he's going to go after the gunman but instead facing like he's trying to escape via the fire exit. And that the shooter adjusts his stance and exhales before pulling the trigger, the way an assassin would. Add the fact that the second gunman, monitoring the room with his AK-47, doesn't flinch when Venter is shot, and Reeder suspects that this is instead a clever assassination.
He passes his findings to the DC cop and is quickly roped into the multi-jurisdictional task force assigned with finding the killers. When they discover that there is a similar couple robberies in nearby states, they immediately focus in on them as the robbers, but Reeder continues to caution them against heading too far in that direction.
When a second Supreme Court Justice is murdered via a nasty gut shot while feeding the birds in his garden, Reeder's theories suddenly gain a lot more credence, especially since one of the criminals from the other robberies is already dead and the second in jail when the Justice is killed. Reeder begins to gain some traction within the task force, where previously he had been a near pariah. He still isn't openly liked or trusted, except by his assigned partner Patti Rogers.
Luckily, Reeder is heavily backed by his longtime friend, the FBI agent heading the task force, Gabe Sloan, who is actually the godfather of Reeder's only daughter. Without that support, Reeder would never have made it onto the task force, let alone been able to move as far forward as he was.
The book zips along in its just over 300 pages, with plenty of twists and turns to keep readers on their toes, yet none so outlandish that the book becomes a farce. It's fascinating to see the details that we so often miss in our daily lives pointed out so clearly by a kinesics expert, something that really added a lot to the novel.
Though Rogers and Reeder are thrown together as partners, since Rogers's normal partner Sloan is heading the task force, the fact that they are opposite sex and both single doesn't mean that there is a romance immediately brewing. That seems to be so consistently formulaic in books, regardless of genre, that it was a relief to not have that subplot somehow forced in, as well. That isn't to say that there aren't subplots. The relationship of Amy to her dad, and Reeder's dislike of her choice of boyfriends plays into the book, but in a way that makes perfect sense and helps build Reeder's character, as well.
It isn't a surprise that this is nowhere near the first book that Max Allen Collins has written, nor that so much of his work has been nominated for – and won – numerous awards across a variety of media. I hadn't previously been aware of his work, but it is masterful in the genre of mystery and suspense, and I cannot wait to digest another of his books.
Supreme Justice was a great page turner, one of the books where I keep telling myself that "I'll just read one more chapter" – and fortunately the chapters are short, but one more chapter was never enough. I read this book, start to finish, in under a day while I had plenty of other work to do because I simply couldn't put it down. My only hope is that this isn't the last we see of Joe Reader.
Find out more at the Supreme Justice Blog Tour page.
Written by Michelle who is fascinated by talents and skills like kinesics and wishes she had them herself. See what talents she does have as she shares on her blog Honest & Truly! and follow along with her on Twitter where she is also @HonestAndTruly.