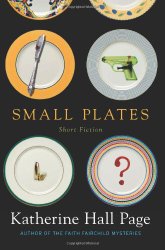 On a recent weekend away with friends, I couldn't sleep. I wasn't comfortable getting up to read, and turning on the light would wake my husband, so I decided to check the kindle app on my phone for something. I read Small Plates
and I was absolutely delighted. Not only is it perfect for late night reading, but it held up well the next afternoon, when a downpour kept us inside and I spent an hour or two reading.
Faith Fairchild is a pastor's wife in New England who also runs a catering business (but uncozily, if that makes sense. I don't like "cozy" mysteries). This addition to the series is a collection of short stories, hence the name.
To read the rest of my review and enter to win a copy for yourself, pop on over to 5 Minutes for Mom. It's worth your while–I loved this book.