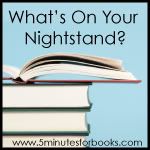 Hello on this holiday Tuesday! I got thrown off and might not have gotten it posted if Lisa hadn't tweeted me, it might not have gone up!
So please link up. Tell me what you're going to read this month, heading into summer, or link up what you finished this month.
Check out our current giveaways. Subscribe to our feed. Follow us @5M4B on Twitter or on Facebook.