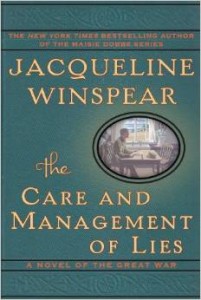 Author Jaqueline Winspear (of Maisie Dobbs fame) introduces her latest novel with a description of a book she found in a London market–a battered book on household management, inscribed to a young bride in the summer of 1914. She found herself pondering this unknown woman, no doubt happy on her wedding day and with no idea of how her life and those of her countrymen were about to be changed, utterly and  irrevocably.
From this seed of an idea sprang the book The Care and Management of Lies
which follows the lives of 3 young people. Kezia Marchant and Thea Brissenden are girlhood friends but lately things haven't been the same between them, now that Kezia's engaged to marry Thea's younger brother Tom. Thea is a passionate and idealistic young woman, marching for women's suffrage and pacifism, yet afraid to face up to the consequences of her actions. She is ultimately angry and unhappy, lashing out at those she loves. She resents Kezia giving up her teaching position to marry Tom and become a farmer's wife. In a fit of pique, she buys Kezia a book on household management as a wedding present, intending it spitefully.
Kezia, a vicar's daughter who often visited the Brissenden farm while the girls were in school, is unprepared in many ways for the unending drudgery of farm life, but her love for Tom and her sense of adventure stand her in good stead. She rises to the challenge of feeding the crew and learning to manage livestock, and soon finds she loves it. But of course the shadow of the Great War is rising on the horizon. When many of the local boys go off to join the army, Tom joins them, feeling that he should set a good example. And after all, in those first heady months, everyone expected the war to be over by Christmas. This leaves Kezia to manage the farm by herself, essentially, although of course she's helped in management by an older man and a lame boy.
I pondered the title of The Care and Management of Lies
for a while, and I think it has to do with the bulk of the book, the letters between the 3 of them and their parts of the war. Tom ends up being the whipping boy for a bully of a sergeant who believes that the way to create team spirit is to make everyone hate one of the men–with dire results. Kezia of course knows nothing of this, and the letters that Tom sends her make no mention of it. Meanwhile, she has her own lies to tell–of delicious meals cooked with him in mind, of beautiful fall walks taken through his favorite wood–which has been plowed under because of the War Office. Thea is telling her own lies meanwhile, and searching to find peace in her own way while hiding from Kezia what her life has really become.
This book was a bit slow to get into, and initially I wasn't sure how much I was going to like it, but I ended up really enjoying it. It's the sort of book that stays in the mind after it's finished. I found myself really caring about the 3 of them, and was sorry to see it end.