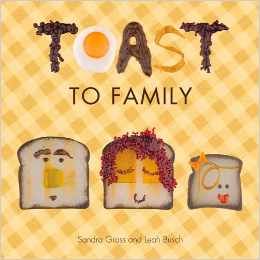 Toast to Family
: When my kids were younger, they happened on the idea of toasts–I can't remember where, possibly a wedding or in a movie–and like so many others before them, were constantly making toasts for a while, including, naturally, with actual toast. So this delightful board book reminded me of that time. Sandra Goss and Leah Busch have recreated the family in toast. There's mum and dad and baby of course, but also sister and brother, teen and tot (the teen toast has braces and the tot has a swoopy curl and bow). There's grandma toast with glasses, and grandpa toast with a bald head. There are even toasty twin cousins! Points for originality, though, have to go to Uncle Cal, with his "sweet moustache" (looks like jam) and Aunt Maude with her "red smooch."
Although the pictures look like toasted bread decorated with cheese, jam, egg and other edibles, the illustrations are actually made of kilnformed glass. Toast to Family
is a fun concept and a book you won't mind reading again and again. You might even be inspired to create your own toast faces.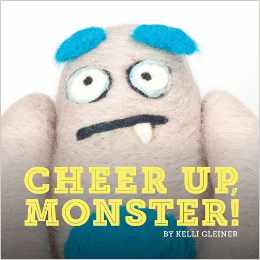 Cheer Up, Monster!
: Cheer Up, Monster!
also presents works of art in an accessible board book that will delight even the youngest children. Monster, a handfelted creation with blue ears and a single snaggletooth, is sad. What can cheer him up? A variety of felt concoctions are offered, but all are refused for various reasons that will feel all too familiar to mums and dads. Carrots are too crunchy. Flowers make him sneezy. Popsicles are too sticky (this one was my favorite, as Monster is shown with bits of purple popsicle all over his body). Everything is "too" something. Even a box can't help, because boxes make him feel teeny. What will work? I don't want to give away the ending so you'll have to read the book to find out.
Cheer Up, Monster!
would be great for those days when our own little monsters are sad and out of sorts. Not to mention, the little monster is so adorable!
Both books are put out by blue manatee press and are part of their original children's series, presenting art's playful side to young readers and their parents.