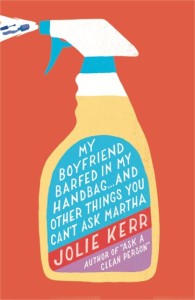 Jolie Kerr's new book My Boyfriend Barfed in My Handbag . . . and Other Things You Can't Ask Martha
offers a great resource to anyone in any stage of life. She teaches the basics, everything from bathroom to linens to refrigerator insides to, yes, those pesky stainless steel appliances. (Seriously, why is it so hard? I only have a dishwasher, but it is perpetually streaky) Her style is humourous and conversational, and she clearly explains not just the how but the why. She goes into great detail, recommends products (spoiler: her favs are ammonia and white vinegar), and clearly spells out step-by-step processes.
For me, though, the best parts were the things that you just would never in a million years ask your mother, unless your mother is far younger and hipper than mine (which is possible. Actually it's probable. Still, some things just might be embarrassing). Everything is addressed. And yes I do mean everything. Let your imagination run wild, then click on over to read my full review at 5 Minutes for Mom, where you can enter to win a copy of your very own.