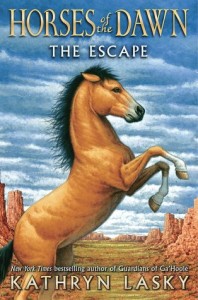 Kathryn Lasky is well known for her Guardians of Ga'Hoole series, but she's gone in a completely different direction with her new series, Horses of the Dawn. Like her other series, this is not your typical book in its genre. In the first book, The Escape, the first tribe is formed during the 1500s, loosely following legends of the Conquistadors as they attempted to find gold in the new world.
The book is a "horse book" but it is not at all like the ones I grew up reading. Though loosely marketed as a girls' book, this appealed far more to my son, probably due to the somewhat violent – but sadly realistic – mishaps that befell the horses from a shark eating the main character's mother to crocodiles using their tails as weapons and nearly blinding a colt to a stallion's head being cut off to prove he wasn't a god (an actual historical occurrence). That alone makes this book more for older children, far more so than the graphic on the cover would lead you to believe.
That said, it is an interesting book following Estrella, a filly born on a ship headed to the new land, and her fellow horses. When the ship is becalmed and food and water begins to run low, the men throw the horses overboard in an attempt to lessen the weight of the ship so that it can more easily move. The horses then have to figure out how and where they will go, as they have always been ridden and trained by men.
Horses of the Dawn is told from the perspective of the horses and their understanding of the world. I appreciate this perspective because it helps us recognize and understand that not all of what we do as humans has everyone's best interests at heart, regardless of our intentions. And yes the humans – or two legs, as they are referred to – are fairly demonized in this book, though for good reason.
The interactions and growth of the characters are also nuanced. While Estrella has never been trained and has little knowledge, she believes in the image of the tiny horse and the smell of the sweet grass she inherited from her mother. The other horses each have distinct personalities from the grandfatherly Hold On to the timid Angela to the brash Azul. They don't always get along, but they have to learn how to be a family, and watching them become one is heartwarming.
This is very clearly the start of a series that will continue to follow this first herd as it travels the new world to find their home. As a parent, I would encourage an adult to read – or at least skim – this book to determine whether you are comfortable with the content before providing it to a child, as some may be more disturbed by the story and imagery than others. It is a good lesson in history, however, not glossing over the brutality that was regularly perpetrated while also not focusing on it exclusively.
This is linked up to Shannon Messenger's Marvelous Middle Grade Monday. Click through to see links to other reviews for your middle grade (9 – 12 year old) readers!
Written by 5 Minutes for Books contributor Michelle who adores horses and will continue to ensure she has a soft hand when she next rides. See what she does with her life instead of riding now via her blog Honest & Truly! and follow along with her on Twitter where she is also @HonestAndTruly.