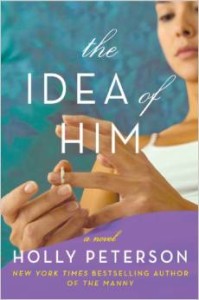 We marry the man we love, and our expectations of what we want are colored by our experiences with our parents as children. For Allie Crawford, this is uncomfortably true in The Idea of Him by Holly Peterson. Allie was in a small plane crash with her father when she was 16, and she survived – at least physically – though he didn't.
Fast forward 18 years, and she is married to a mover and shaker in New York City, the editor of high gloss Meter Magazine, and doing PR for a consulting firm with a boss of 10 years who has an ego larger than all the boroughs. She isn't happy, but she's pushing through, loving her two children and doing the best she can elsewhere.
Her life is slowly falling apart, however, as she catches her husband in another affair, her boss is more mercurial than ever, and a guy in her film writing course – her true passion – wants to start up an affair with her. When she confronts Jackie Malone, someone she is sure is sleeping with her husband, Jackie doesn't deny it but promises there is far more going on and that she will never lie to Allie.
As the story unfolds, Allie continues to push for the crutch to fix herself. She doesn't quite embark on the affair but flirts on the edge. She dreams of getting back with her "soulmate" James who she ran from after he spent too much time in his 20s overseas vaccinating children. She manages her boss Murray, but his demands continue escalating.
And Jackie is always there.
The book is a fascinating tale as we are witness to the bottom dropping out on Allie. The book is written with some flashback to get a stronger sense of who she is, and her conversations with Jackie are always enlightening. The tension throughout the book is palpable, and you never know what side anyone is playing, just that there is plenty going on that is still hidden. I love that the book keeps you in the dark without creating unrealistic machinations and hints to try to throw you off the trail.
It is not a formulaic book in the least, and the characters are – for the most part – just as interesting, though few were truly likeable. I was intrigued by Allie, much as I wanted to simply shake her and tell her to grow up. Murray was an entertaining character, and her husband Wade was more than just a caricature of a smarmy cheating husband. There wasn't anyone who I wanted to stand up and cheer for, however. That said, the book and interesting characters kept the pages turning, as I waited for the next plot twist.
The fact that there was more than one plot within the book helped make and keep it an interesting read, as well. While Allie is fearful of her marriage to Wade and relationship she's considering with Tommy, there is also the subplots involving Jackie and with Allie's professional world – all of which intersect to some degree. The only area that really left me wanting was her exploration of her relationship with James.
This is Holly Peterson's second book, and it was a fairly quick and light read – perfect for something on the plane or while on vacation. I am interested enough to pick up her other book, The Manny, but it will probably be one that I'll read by the pool this summer where I can relax and enjoy something easy.
Written by Michelle of Honest & Truly! who is once again grateful that she doesn't live in New York where everyone lives on the verge of financial disaster yet masks it all. See what her life in the Chicago suburbs is like instead via her blog Honest & Truly! and follow along on Twitter where she is also @HonestAndTruly.