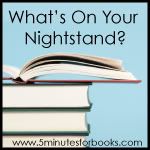 I feel like I'm back in a reading groove after enjoying several mornings in bed reading — my guilty pleasure on easy Spring Break weeks or during those first weeks of summer when I'm decompressing. How about you? Are you reading more? Less?
Regardless — let's dish about it this month. Share the link to your post about What's on Your Nightstand below. You can tell us about the books you recently finished or those you hope to read this month or even a fun haul from a book sale or library visit.
It's all about sharing our passion for books.
Be sure to look all the way at the bottom to see links to some of our recently reviewed books if you've missed them. We also have several new giveaways up.
Check out our current giveaways. Subscribe to our feed. Follow us @5M4B on Twitter or on Facebook.