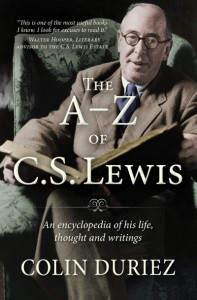 I have been a fan of C.S. Lewis for nearly as long as I can remember. The very first proper book I read on my own, at the ripe old age of 6, was The Lion, The Witch and the Wardrobe. By the time I was in college, I was reading everything Lewis I could get my hands on–from his apologetics to his space trilogy to his scholarly treatises on medieval literature (which I was studying). So you can imagine that I was excited to see the new encyclopedia on his life, thought and writings.
The A-Z of C S Lewis
is a terrific reference book, cramming loads of information into a surprisingly small, albeit densely packed encyclopedia. It's got everything. Wondering who that obscure Telemarian lord from Voyage of the Dawn Treader is? His entry is here. Trying to remember the name of that woman Lewis had that series of debates with? Wanting to familiarize yourself with his views on nature and the supernatural without having to reread all his books? The A-Z of C S Lewis
has it all in one handy location.
I have so enjoyed poking around in this book. Did you know author David Lindsay is the one that gave Lewis the idea for his Space Trilogy through Lindsay's book A Voyage to Arcturus (1920)? Perhaps you knew about Owen Barfield and his Poetic Diction and how it influenced Lewis, but you can't quite remember. There's a great essay on Tolkien (naturally) as well as the other Inklings. There's a synopsis of his well-known work The Four Loves. There's so much! It will add to your knowledge of his works and understanding of the ideas behind them, and the arrangement of the book makes it easy to move from topic to topic–although I found it awfully easy to get side-tracked.
Published to coincide with the 50th anniversary of Lewis' death, The A-Z of C S Lewis
is thoroughly researched and delightful book. "A modest book like this dare only claim the range of a comprehensive A-Z because its subject was truly encyclopedic in his constantly fascinating interests, friendships, reading, concerns, and writings, which are facets of him I have tried to capture," says Colin Duriez in his introduction (p 9). This is a great addition to the library of any Lewis fan, even ones who perhaps have only previously been introduced to one aspect of his myriad works.
Highly recommended.
Find out more and read more reviews at the Litfuse Blog page for Colin Duriez's book.