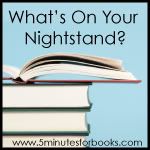 Hopefully you all haven't given up on me. It totally slipped my mind today. Nancy is on Mountain time, so her well-intentioned email asking/reminding me was not received until this morning — late this morning.
We'd still love for you to share what you're reading or what you've just finished reading. Maybe you've put some recently announced Newbery Honor books on your list? I'd love to hear what you think of the group.
Also–some people have told me they are having trouble with our feed. One thing that is reliable is the Feedblitz, which you can get as email and/or Facebook updates, so I invite you to subscribe that way so we can keep in touch!