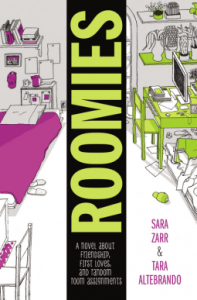 Roomies was such a fun trip down memory lane for me! It follows the summer before college in the life of two potential roomies. Elizabeth (EB) is ready to leave New Jersey for San Francisco, so when she gets the name and email of her assigned roommate, she emails her immediately. Lauren is a SF native, living in a house packed with younger siblings. She's just moving across town, but she was hoping for a single, since she's shared a room with her much younger sister for so long.
We follow EB and Lauren's ups and downs that summer with boyfriends, friends, hookups, parent trouble, as they work out questions about who they are and who they'll be in college. Because Lauren has a lame phone, the girls stick to email, and it's not even an immediate back and forth, which gave it an old fashioned pen pal feel.
I remember my freshman year all too well. Back in the fall of 1988, I didn't even get my roomie's name until I checked into my dorm on move-in day! I think that's probably just as well, because even though I count her as a friend now, we were different types in high school, and had we compared notes looking for a soulmate, we might have been disappointed before we even met.
As it was, we meshed pretty well. We lived in a dorm with community baths, so we each let the other get ready in our room at our sink. That included using the hairdryer and turning on the small light over the sink to do our makeup. We each at 8am classes, but on alternating days, so it was a win/win situation for both of us.
We switched roommates sophomore year, but we both stayed in the dorm, and our friendship grew stronger over the years. We both had a lot of growing up to do, and I'm glad that we gave each other the grace and the space to do it.
CONTENT NOTE: This is considered a "new adult" book, which is a distinction I like. Young Adult is so broad, from 12 and up. I consider New Adult to be for older teens and even adults who like YA (though I notice that is still marking it as the standard 12 and up, 7th grade and up). There is a fair amount of profanity as well as some sexual content.
See the authors on tour
Sara and Tara's confirmed tour dates:
Enter to Win
One of you (U.S. only) could win a signed copy of ROOMIES plus a fun shower tote caddy so you can relive your own roomie days (or get ready to meet your first one!).
Check out our current giveaways. Subscribe to our email feed. Follow us @5M4B on Twitter or on Facebook.