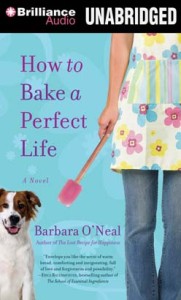 How to Bake a Perfect Life is the story of Ramona Gallagher and her boulangerie, complete with bread recipes, generations-old starter, and family conflicts that go back a generation as well.
Ramona's teen pregnancy was the cause of a lot of problems. Beside the obvious, it caused conflict with her mother and sister. Her divorce years later from a man with whom she worked in the family restaurant caused more bad blood. But each of those circumstances resulted in some good as well. For one thing, it was the summer she lived with her aunt — in pregnant exile — that began her love of breadmaking. She also gained some confidence in spite of her mistakes. And that love of breadmaking resulted in her opening her own bakery after the fallout with her family after her divorce.
Years later, the bakery is still a labor of love, but one that is barely in the black. Her daughter is now about to have a child of her own, but when her husband is injured while serving on active duty, she has to go to the military hospital. She was supposed to begin caring for her 13-year-old stepdaughter Katie while her mother's in rehab, but Ramona agrees to step in while she's gone.
Business drama, teen angst, family conflict, and even a little romance make this sound a bit like a soap opera, but what I liked about it is that it's actually pretty sweet and real and inspiring. Sometimes love is messy and personal entanglements are risky, but in the end, investing in people usually pays off.
CONTENT: A couple of sex scenes, and a little bit of language.
AUDIOBOOK NOTES: The reader Tanya Eby brought the story to life. She read the chapters from Ramona and Katie equally well. You can hear a sample on the Brilliance audio page.