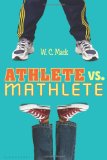 My son and I really enjoyed reading Athlete vs. Mathlete by W.C. Mack together. My 4th grade son is neither a mathlete nor an athlete, but is closer to the former than the latter.
This story is told in alternating chapters from the point of view of twin brothers Owen, the athlete, and Russell, the mathlete. In addition to their different strengths, the fraternal twins look completely different as well. Owen is strong and stocky and Russell is tall and gangly. When a new basketball coach comes to their middle school, he encourages Russell to try out for the team, thinking his height will be an advantage.
Both Russ and Owen are floored by this news, but the tough coach doesn't really present it as an option, but as a requirement. Owen doesn't want to get on his bad side, but he also doesn't want his uncoordinated brother to embarrass him. When Russell makes the team, the dynamic shifts. Russell also has to come to terms with being an athlete and try to balance his schoolwork and being captain of his Masters of the Mind team. Can he do both? They've always been able to shine in different areas, but will Russell steal Owen's spotlight on the court? Or will sharing an interest actually make them closer?
I loved the plotlines about sibling rivalry, family, and finding one's place at school. It made for a real and funny story.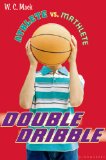 Athlete vs. Mathlete: Double Dribble is the second in the series (with a 3rd coming out this summer!). Owen and Russell have made their peace with sharing the spotlight on the court. Russell is still trying to figure out how to best manage the Masters of the Mind team since one of their members moved, and they haven't found a suitable replacement.
The big news is the arrival of the Twin Towers from Minnesota, Mitch and Marcus. They are excellent basketball players and identical twins, and they even excel academically! Will Owen's jealousy get the best of him? Will Russell lose his status as the only mathlete and athlete in the school?
We enjoyed this second installment almost as much as the first, and await the 3rd (set for release this summer!).

The first book was a Cybils nominee this year, but these opinions are mine alone and not meant to reflect the committee as a whole.