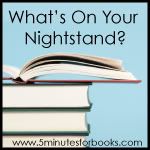 Whenever What's On Your Nightstand falls on a holiday week, as the 4th Tuesday 12/24 did last week, our participation is down. People are away from home or busy with other concerns. I did post it last week with the promise that we'd post it again this week.
If you linked up last week, your original link should still be here. If you have more thoughts, feel free to post again.
Tell us what you've read or what you plan to read this month. You could even make it a special holiday edition if you want to tell us about books you were given and when you plan to read them.
Check out our current giveaways. Subscribe to our feed. Follow us @5M4B on Twitter or on Facebook.