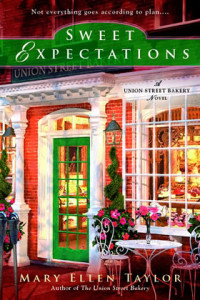 When I first ran into Daisy McRae last year in the first book of The Union Street Bakery series, she had lost her job after her company unexpectedly shut down and had moved back to Alexandria to help with her family's failing bakery. In Sweet Expectations, the second novel in the Union Street Bakery series by Mary Ellen Taylor, Daisy is again the main character, now facing a whole new set of problems.
Although she'd made huge strides in bringing her family's 150 year old bakery back into the black after years of dwindling profits, especially after her sister Rachel's husband Mike had died of an aneurysm, it wasn't enough. Daisy, Rachel, and the third sister Margaret agreed they had to shut the bakery for two weeks in an attempt to renovate it to make it more conducive to the way the bakery needed to run.
As the bakery is about to open for the last day of business before the remodel, Margaret announces that she's received a dream job offer on an archaeological dig that she has accepted and needs to leave in two days. Rachel and Daisy insist she goes, but they both know losing their part time worker will hurt – especially as they are already bare bonesing the renovations and doing most of the labor themselves.
Couple that with Daisy's realization that she is four months pregnant, and there is plenty of meat for this story. The father of Daisy's baby is an unfortunate one night stand the night before she came home to Alexandria with a jerk of a man she had worked with who definitely isn't father material. Couple that with the bad blood between him and her current boyfriend Gordon who owns a local bike shop he had opened after returning to Alexandria when their mutual company had shut down, and there's disaster all around.
There is hope, however, as a ghostly presence is nudging Daisy to "find him" after the three sisters find a recipe box from the 1940s tucked inside a wall they are removing as they start the renovations. As Daisy digs, she discovers that Jenna – the woman who owned the recipe box – has a story disturbingly similar to her own, and she never gives up on finding the "him" Jenna asks her to.
Along the way, Daisy realizes that the bakery has grown on her. She no longer sees it as a burden, and she's proud of the tangible results she creates each day. She is changing the rhythm of her life and no longer craves the fast-paced, high-powered life she left behind in DC. At the same time, Rachel is realizing that the bakery is stealing her life and the time she would like to spend with her five year old twin daughters, which means something has to give at the bakery.
I adored this story that you can easily pick up without having read the first book. There is enough of an introduction so that you can easily follow what's happening – and remind me, who read the first book The Union Street Bakery a long time ago, what happened previously. The book is sweet, and I adore the characters. This book ends obviously leading to another book in the series, and I cannot wait to pick it up and get back to the life at The Union Street Bakery.
Interested? You can also check out my review of The Union Street Bakery, the first book in this series.
Written by Michelle who can't wait to make the pumpkin bread referenced in the book with the recipe included at the end of the book. See what else she's cooking up on her blog Honest & Truly! or follow along with her on Twitter where she is also @HonestAndTruly.