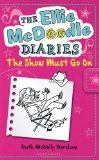 The Ellie McDoodle Diaries: The Show Must Go On written and illustrated by Ruth McNally Barshaw is obviously branded to the girl set, but I think it could appeal to boys and girls. I've read one or two other Ellie McDoodle books, and I'm a fan of the realistic school setting and Ellie's fun sensibilities. She's neither angelic nor bratty — she's real.
This one was fun because it had the added nostalgia/interest of the Wizard of Oz. Her class is doing a unit on it, including projects and the play. All of Ellie's friends are involved. She's stage manager, and when her best friend doesn't get the role of Dorothy, will they be able to patch it up? This is a great example of real age-appropriate issues and problem solving.
When I tried to think back on the drawings, I had to refresh my memory. I thought, "There must not have been that many." Nope, I was wrong. When I looked back, I saw that there were lots of drawings, but they were seamlessly integrated into the story, which is kind of cool.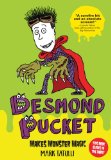 Desmond Pucket Makes Monster Magic written and illustrated by Mark Tatulli introduces Desmond, a middle schooler who would rather use his love and skill with special effects to pull off pranks than complete his math homework. That's really nothing new in the world of kidlit, a tween boy who spends more time getting in trouble than making the grades, but I did like the voice in this book. It's not really that he's disinterested in school, he's just much more interested in his hobby. He uses his sister's Polly Pocket and American Girl dolls to make Monster Magic.
Even though he feels like he's a master of the d-word, disappointing his dad and the school staff, when he's forced to get involved in extra-curricular activities, he wonders if he will be able to use his talents for good with the drama department and change his reputation for good.
The drawings were original and some even had color and definitely added to the story.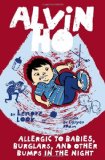 I was first introduced to Alvin Ho when I read one of the books nominated for a Cybils a few years ago (not the first one, which I believe was a finalist). I became an instant fan, as did my son. Alvin is terrified by life, but he still manages to cope, especially when he has his PDK (Personal Disaster Kit) at hand.
Though I'm still a big fan of the series by Lenore Look, Alvin Ho: Allergic to Babies, Burglars, and Other Bumps in the Night wasn't my favorite. The plot point of getting a new sibling is one that elementary kids can understand, but the whole riff on the "sympathetic" pregnancy that Alvin experiences seemed kind of odd to me. My son still liked it though, and Alvin Ho is still a series that I push hard at the school library. If a kid has a fear or a worry, he can watch Alvin work it out in an over-the-top way.
These illustrations by LeUyen Pham are just accents to the story, helping to slightly break up the text and helping bring the story to life.

These are all Cybils Middle Grade Fiction nominees, but my opinions are not meant to represent the Cybils. I received the books from the library, and the library didn't influence my review either.
Check out our current giveaways. Subscribe to our feed. Follow us @5M4B on Twitter or on Facebook.