Doctor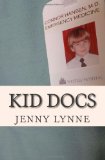 Yes, Kid Docs by Jenny Lynne features children in an experimental program where children are trained beginning when they are toddlers so they can practice medicine when they reach double digits. It had a futuristic sci-fi flavor but a realistic setting, which I think is rare in middle grade fiction.
The story about 10-year-old emergency room doc Connor and his friends ER doc Hannah, OB-GYN Cassie (and first crush), and his older brother Alex, a surgeon who might be ready for retirement at the ripe old age of 14, pulled me along. The hospital setting was rich and accurate, with enough medical details to pique the curiosity of kids who might be so inclined, or to feed the fascination of adults who like to watch medical shows.
I always appreciate dramatic suspense in a novel, and this one had it. Plenty of plot points kept me reading: finding out how the kid docs will react to the pressure, the fate of the patients who come into the hospital, and even the fate of one of their own.
You can buy it in paperback or for a very low price on the Kindle.
Zookeeper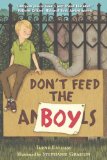 Whit is not really a zookeeper, but close enough. His mother runs the zoo, and his father is one of the head animal caretakers. Whit lives in the zoo, has free reign, and doesn't ever ever leave. He's homeschooled, he doesn't have friends outside the zoo, and his parents never invite him along on their fabulous work trips outside the country. As Irene Latham alludes in the title Don't Feed the Boy, this results in him basically feeling like a caged animal.
When he befriends a girl who comes to the zoo every day, he busts out of his routine. This is a hallmark of a coming of age story. There are some emotionally intense elements, such as Whit's insecurities about his somewhat-neglectful parents, and his friend Stella's legitimately abusive homelife. The writing is evocative, and the situations are real and age-appropriate to tweens.
Prisoner
These two titles with similar titles have very different feels and so different audiences will probably gravitate to one or the other.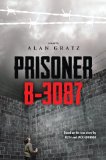 Prisoner B-3087 is historical fiction based on the true story of Jack Gruener, written by Alan Gratz, set in Poland during the rise of the Nazis. Yanek's life changes when Hitler's army occupies his town, creating a walled-in Jewish ghetto. But then separating the Jews isn't enough. People are shot and taken to camps. Finally they come for Yanek.
The book follows this 10-year-old boy over six years and 10 different camps. He breaks rocks and moves boulders and works as hard as he can to stay below the radar so that he'll survive.
The storytelling was compelling, and though this was a book that sat on my giant Cybils library pile for a while before I read it, once I picked it up, I couldn't put it down. The subject matter alone probably lends itself to an older audience, but I thought the sensitive subject matter was handled appropriately, so if there's a young reader interested in the Holocaust, I'd strongly recommend this one to expand their horizons and bring it home, seeing how a child of their age was impacted.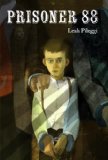 Prisoner 88 by Leah Pileggi also deals with a 10-year-old prisoner, Jake who was sent to a state prison in 1885 for murder. The real story of the whys and hows come out gradually.
Because of his age, Jake ends up being segregated from the other prisoners, and finds his salvation in working with the pigs and hope for his future in learning to read. The reader's heart naturally goes out to Jake, who is a sweet and innocent. This was a touching story. The unexpected nature and the "exciting" prison setting will appeal to some kids, but I found the whole premise a bit odd, and there was some crude language that felt out of place to me.
I am a Cybils round I judge for Middle Grade fiction, but this post reflects my opinions and not the committee as a whole.
Find more fun titles for that 8 – 12 year old set over at Marvelous Middle Grade Monday.