I  love the opportunities to do interviews and get behind-the-scenes information on upcoming movie releases. I was surprised to get invited to the Tribute Tour for The Hunger Games: Catching Fire right in my hometown! It was a short press conference, but I was glad to get my question in:
When people are cast for films based on something, sometimes they avoid the original source so that they can stay true to the director's vision. What was your level of familiarity with the books or the first movie before you filmed?
Jeffrey Wright (Betee) is a real actor's actor. He wasn't familiar with the books, but his children strongly encouraged him to take this role. He read the books with intent, calling them an "encyclopedic background." OF course he wanted to read them, because he "looked for any crutch possible."
Stephanie Leigh Schlund read the books voraciously after seeing the first movie. She read the character of Cashmere with much interest, so it was fortuitous that she got that role. She really had to put her acting chops to work because she describes herself as "a person who gives free hugs," so she had to tap into Cashmere's pure arrogance.
Alan Ritchson who plays Gloss proves that brains and beauty aren't mutually exclusive. He said that the books — which he read even before the first movie came out — "phenomenal source material." I loved his description of screenplays as well: "picture books with dialogue." I think this movie looks incredible visual, and it will be amazing to see.
Jena Malone (Johanna) is a super fan. You could tell in listening to her that she drunk it all in. She described the sequel in this way:
Anything you expect is safe, mind will be completely blown.
Malone shared that Francis Lawrence, the director, gave them access to the author Suzanne Collins, who they could ask any questions about back story. He also had a PTSD expert to key into those elements of each of the victors' stories.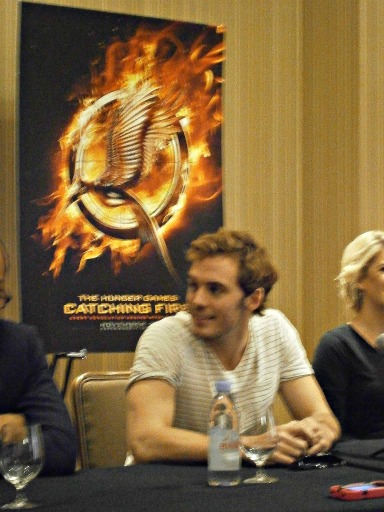 My daughter was most excited about my opportunity to visit with Finnick, Sam Clafin. His casting decision probably caused the most waves from the superfans, thinking he wasn't hot or ripped enough to be golden boy Finnick. Clafin said the fan reaction spurred him to work harder, and he really didn't blame the fans, because when he was cast, he was a "fat English pale kid."
Schlund assured us "from the point of view of a woman" that he will not disappoint.
A question I wanted to ask, but didn't get to, is if the experience was more like boot camp or summer camp. The training and arena footage looks an awful lot like hard work, but seeing these tributes together also made it obvious that they were having a lot of fun too.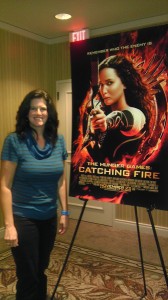 THE HUNGER GAMES: CATCHING FIRE is directed by Francis Lawrence, from a screenplay by Simon Beaufoy and Michael DeBruyn, based upon the novel "Catching Fire" by Suzanne Collins and produced by Nina Jacobson and Jon Kilik. The novel is the second in a trilogy that has over 50 million copies in print in the U.S. alone. THE HUNGER GAMES: CATCHING FIRE opens on November 22, 2013. Lionsgate presents a Color Force/Lionsgate production.
Enter to Win
Click over to my post at 5 Minutes for Mom to enter to win one of three copies of the movie tie-in version of Catching Fire..
You'll get an entry for commenting here, so do that first, but then click on through to read my post over there. Which of these actors do you most want to see on screen? My answer below.
You can also check out the cool Hunger Games: Catching Fire chocolates that represent each of the 12 districts.
Official Site: http://www.thehungergamesexplorer.com
Facebook: www.facebook.com/thehungergamesmovie
Twitter: www.twitter.com/thehungergames
Instagram: www.instagram.com/thehungergames                
Google+:https://plus.google.com/+TheHungerGamesMovies
Pinterest: http://pinterest.com/hungergamesfilm/
Hashtags: #CatchingFire | #IdentifyYourself | #CelebrateYourVictors