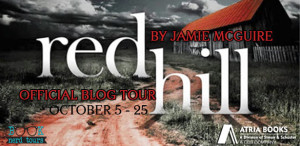 Zombies are the new vampires, thanks to The Walking Dead, World War Z, and other zombie stories. Unlike vampire stories though, there aren't a lot of things you can do to make zombie stories unique. You can make them fast instead of slow, or change the creation story, but one thing that doesn't typically change is how you become a zombie – you get bit by another zombie, you die, you are reborn, craving brains.
And in all zombie stories, the real story is about the survivors, which is the case with Red Hill by Jamie McGuire.
This novel follows 3 groups of survivors as they make their way to Red Hill Ranch. Scarlet is an x-ray tech who cleans the ranch for the owner, a doctor at the hospital where she works. Separated from her daughters before the outbreak, she's positive they'll meet her there, and does what she can to make sure that will happen. Nathan is a newly single father whose wife chose to leave him on the day of the outbreak; his only goal is to keep his daughter safe. Miranda is a college student who shepherds her sister and their boyfriends to the ranch, hoping to find her father at his weekend home; along the way they pick up Joey, a quiet loner just back from Afghanistan. They've all lost loved ones to the outbreak and combine their skills to fight the "teds" as they come to call the walking dead.
Red Hill is an enjoyable read, though there are a few plot holes that were niggling — inexplicable lapses in time, questionable decisions by the characters, the appearance of a little girl who doesn't add much to the story. The characters are also not quite as multi-dimensional as they could be, and the love story doesn't really show up until well into the book. However, if one can get buy into the possibility of zombies, then one can also get past these minor quibbles with an otherwise entertaining book.
If you were forced to watch World War Z by your husband, with your hands in front of your eyes the whole time, then this book is probably not for you. But if your DVR was set to record the fourth season premier of The Walking Dead this week, then I recommend checking it out.
Get more information about the author, and check out what other reviewers thought over at the Book Nerd Tours page for Red Hill.
Check out our current giveaways. Subscribe to our feed. Follow us @5M4B on Twitter or on Facebook.
Win it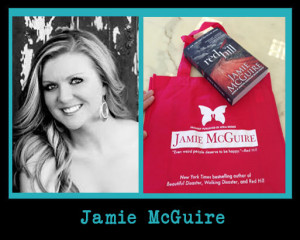 1 winner will get a signed Limited Edition of Beautiful Disaster, copy of RED HILL and copy of Walking Disaster + Jamie McGuire Tote Bag! Just start off by entering your name and email in the widget below. Then leave a comment telling us if you prefer zombie or vampire tales, and what your favorite is. Must be 13+ to enter, U.S. addresses only please.