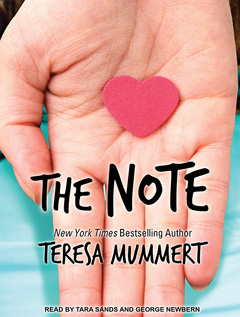 This book bugged me a little. I was entertained, but . . . .
All the "running through fields of daisies" love-at-first sight stuff, topped off with totally unrealistic details like Shane teaching Jenn to drive, and her going out on the highway on that first trip. I've taken my 15-year-old daughter driving in a parking lot a few times. I know what it's like your first time behind the wheel. You aren't confidently making left turns across traffic, or merging on the highway.
I could have stopped reading (listening), but I liked Shane and Jenn. I wanted them to stick it to the people who had made them miserable, so I kept listening. And once I figured out exactly why I was slightly annoyed with the book, I began to enjoy it more.
My problem? It's a romance. I read books all the time that contain romance, obviously — even detective fiction does on occasion — and the middle grade, young adult, and women's fiction I read frequently do. But the stereotypical ease and drama of a "romance novel," is something that I'm not really used to. My diagnosis was confirmed when I got to the first sex scene (one of two in the book) where hungry kisses were exchanged.
So, if you like romance, which many many people do, here's more about The Note by Teresa Mummert:
Sometimes in life it feels like everything that can go wrong does, but everything happens for a reason. A relationship crumbles so someone else can mend the pieces of your broken heart. A change of plans can lead you to something you didn't even know you were missing. We help others and discover that it was us who needed to be helped all along. Jenn's life is nothing as she had imagined it would be. She is twenty-something with a failing career and her love life has officially ended with an ultimate act of betrayal. She is ready to throw away her dreams when a chance run-in with a soldier (Shane) dealing with his own misfortunes, altars her course and changes her perspective on life.
So, yeah, mending missing pieces? chance run-ins? Maybe I should have realized the genre. But it was more the idea of "the note," and changing perspectives that intrigued me. The book was originally published as The Suicide Note, and I think the new title is much better. The first title evokes a darkness that just doesn't exist in this novel. Yes, there's a note, but without giving spoilers, everything is not what it first appears to be.
The story is told in alternating chapters, from Shane's and Jenn's perspectives, which helps to build tension at times. The supporting characters, like Shane's family members May and Jake, are somewhat well-developed and definitely add to the story. Others, like Jenn's family, who have been the cause of much of her pain, aren't, and I would have liked to know more about them.
NOTES ON THE AUDIOBOOK:
Since the story is told in alternating chapters, dual readers are used, Tara Sands for Jenn's chapters and George Newbern for Shane's. I like this style, and it always adds to my audiobook enjoyment. They both did a great job keeping me interested in the story and the characters.
You can hear a sample and purchase CDs or download the novel at the Tantor Audio site.