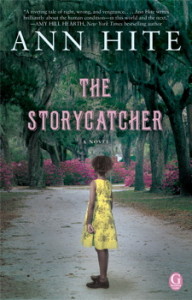 After you turn the title page on Ann Hite's novel The Storycatcher, you come to a hand-drawn map of Black Mountain, followed by sections of five different family trees with a total of 21 names and a span of almost 150 years. This introduction sets the stage for a novel of complexly interwoven stories, centered in a mountain community in North Carolina that also reaches as far as the coast of Georgia.
This is not an easily summarized book, for there are several stories being told piece by piece, from Depression-era times all the way back to the days of slavery. The main plot line follows Shelly Parker, a young girl living on Black Mountain with her mother, the only black people in the community and keepers of traditions and beliefs from long ago. They work for the family of the town's pastor, the Dobbins, and there is no love lost between Shelly and Faith Dobbins, the pastor's only child. Shelly's mom Amanda is the peacekeeper, the person who both Faith and Shelly adore and look up to, who is relied upon even by Faith's mother. At the opening of their story, the loss of Shelly's older brother Will is weighing heavily on everyone, though why he suddenly left Black Mountain is not revealed immediately, nor is his fate after leaving. But both Amanda and Shelly know that something bad is coming to their mountain community, for they see far more than others do, and there are many secrets to be discovered about this town's history.
Though Shelly's story lies at the center of the novel, the book actually opens in Georgia in the same year of 1935, introducing a side set of characters whose significance becomes much clearer later in the story. In all the side plots, there is a running theme of power, loss, and abuse, and the cast of characters soon become more interconnected than one might have thought at the onset, with multiple parallels in place between generations. There is an eerie and dark tone conveyed in the storytelling here, with mystical elements at play. The title's meaning is gradually described as the book goes on. At the heart of it is the idea that a person's "story" must be complete before they can move onto any sort of afterlife, and spirits themselves make up a good portion of the characters in the book.
I could not put this book down, totally captured by the weight of the story and these characters. Though I needed to keep a finger back on the page that outlined several family trees for reference, once I straightened out names, I got a feel for each individual in this large cast of characters. Discovering the ways in which they were all connected was a haunting and emotional experience. I highly recommend The Storycatcher for those who enjoy gothic tales and depictions of the South in the early 20th century.