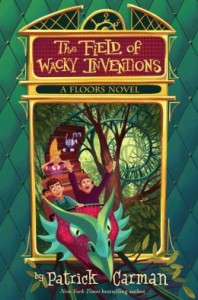 Middle grade readers who have come to enjoy the adventures of young Leo in the first two books of the Floors series will be happy to hear that final installment is ready for them to enjoy. Patrick Carman's Floors #3: The Field of Wacky Inventions picks up where the second book ended, and immediately dives right into the final adventure for these unique characters.
In Floors and Floors #2: 3 Below (linked to my reviews from 2011 and 2012), Merganzer D. Whippet, owner of the Whippet Hotel, provided Leo with some crazy experiences. Sure, there was danger involved, but somehow, Leo always found his way out of a tight spot and appreciated the adventurous nature of the wild times. Merganzer has always trusted in Leo, the son of the Whippet Hotel's maintenance man, and in the second book, Leo finds himself with a new stepbrother, Remi, who becomes his partner in a second round of exploits.
In the last of the trilogy, it is revealed that the Whippet Hotel is not as one-of-a-kind as we had thought, as Merganzer actually owns five other hotels, each with its own special feel, and of course, secrets to be discovered. When Merganzer brings the roofs of all his hotels together in the Field of Wacky Inventions– yes, you read that correctly, just the roofs, all carried to this field by zeppelins– Leo and Remi know that an adventure is afoot once again. This time they find themselves in the middle of a big competition, and though neither is exactly sure they want to claim the prize, they are certain that the challenge itself will create another round of wild memories
I've made the comparisons to Charlie and the Chocolate Factory and Mr. Magorium's Wonder Emporium, and with the character of Merganzer D. Whippet, they continue to hold strong. I like that these books depict wild stories and adventurous children in a highly imaginative setting without ever being scary or truly dangerous. These are perfect chapter books for kids 8 and up, and I'm happy to pass on all three to my middle child, who will be able to read the entire series in one go. Floors #3: The Field of Wacky Inventions wraps up the trilogy with more fun, leaving young readers with wild images in their heads and a smile on their faces.