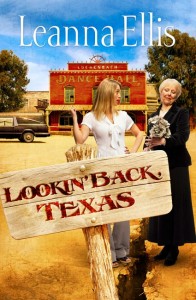 I am sure most people have a few relatives that they would consider to be different. You know, the family members who make you nervous at weddings and funerals because you just never know what they might do.
Suzanne Mullins, the main character in Leanna Ellis' Lookin' Back, Texas, is a little concerned about the crazy behavior of one of her relatives. It happens to be her mother Betty Lynne. When Suzanne arrives at her childhood home in Texas, she learns that Betty Lynne is announcing her husband's death and planning his funeral. The only problem is that Archie Davidson isn't dead.
While Suzanne is dealing with her mother's irrational behavior, she is also forced to face mistakes from her own past, mistakes she has kept hidden for many years. Handling all these troubles at once may be enough to make Suzanne's life the craziest of them all.
I was skeptical about the story line in this book, but the tale was wonderfully written. Lookin' Back, Texas is a book that will make you laugh. I caught myself chuckling throughout the story, especially at the small-town antics. This book is light-hearted, but its message is a powerful one. I admit that I even teared up at the end.
I encourage you to consider this new novel by Leanna Ellis. It is an enjoyable read!
To win one of two copies (U.S. addresses only), leave a comment here, and make sure we have a way to reach you. I'll draw a winner at the end of the Bloggy Giveaways carnival. For more info on all these giveaways, click HERE.
For all the other open giveaways on our site, click the giveaway category link below.
Lauren is a wife, a mother of two, and an avid reader. She blogs at Baseballs and Bows.