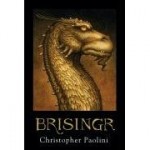 Well, this is the first time in awhile that I have gotten a book the day it was released. My siblings-in-law are big fans of Paolini's Inheritance Cycle so I was glad to stay on top of things and be aware of the new book's release date! (I'm good for something as an in-law, right?)
I bought the first book in this series, Eragon, when it first came out. What most impressed me at the time was that it was written by a fifteen year. For a fifteen year old, it was really good. Yes, it borrowed themes from Lord of the Rings and had a Narnia feel to it, but it was good enough for me to enjoy it. I took awhile getting to Eldest, the second book, and started it just before the release of the third. (If you were currently unaware, Paolini originally intended for this series to be a triology but later decided to write a fourth book turning it into the Inheritance Cycle instead of a Trilogy.)
If you loved the first two books, you will not be disappointed by the third. I don't want to give away any spoilers, but if you check out Wikipedia you can find out what happened there. (So I wouldn't suggest it.)
Brisignr is the seamless continuation of Eragon and Eldest. Eragon and his dragon, Saphira, are still on their quest to defeat the enemy, Galbatorix. Eragon is, at this point, the lone dragon rider in the fight for truth and justice. There is more magic used in this book, as Eragon continues to hone and master the skill of proper application, than in the other two. He even begins to teach others a little as they fight the classic battle between good and evil.
My brother-in-law (who had a chance to devour the book before I got to it) warned me that this book was more graphic than the others. The opening scene of the book is quite graphic in detail with blood spilling out and being drunk by the Ra'zac. Likewise, the magicians at the end of the story seem very deeply and heavily entranced in their skill giving the book an occult feel that I didn't experience in the first book at all.
On the whole, it's more of the same. If you like science fiction/fantasy/dragons/wizards/elves and folklore – then this series is one that you will absolutely enjoy. The fourth book does not have a release date yet – that I know of – so stay tuned!
Carrie comes by her book obsession honestly, having descended from a long line of bibliophiles. She blogs about books regularly at Reading to Know.