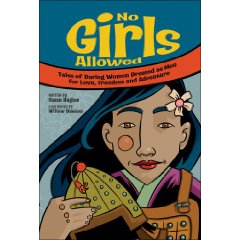 The title No Girls Allowed: Tales of Daring Women Dressed as Men for Love, Freedom and Adventure
caught my eye because…well, I'm a girl. And I have a girl. Just let anyone tell me that me or my girl can't go somewhere. I dare you. Yet there was a time when girls weren't allowed to go places. They were forced to dress as boys in order to gain freedom or obtain career goals.
This graphic novel by Susan Hughes and Willow Dawson relates the stories of 7 women who risked everything to get what they wanted. If your child enjoys comic books, he/she may enjoy reading about these real women in our world's history in this format.
Melissa has been captivated by books for as long as she can remember. She resides in Virginia and at Breath of Life