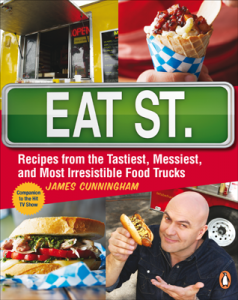 I remember the days when street food wasn't cool. It was what we called roach coaches, where little silver trucks would pull up to worksites to offer some sort of hot food to factories or construction sites. Or they were the carts in Chicago pulled by individuals along the sidewalks selling Mexican corn (delicious, by the way) or shaved ice or hot dogs. The whole game has changed now with food trucks becoming big business around the country. James Cunningham captures the essence of this with Eat St.: Recipes from the Tastiest, Messiest, and Most Irresistible Food Trucks.
Because yes, there is a tv show now focusing on the cuisine of food trucks, and James Cunningham is the host who has spent four seasons on the Cooking Channel with Eat St. where he ventures to various mobile-truck food vendors to taste their wares. This cookbook shares more than 125 of recipes from those visits.
While many of the recipes are not ones that I would recreate in my own home – they're too out there or they're too involved or the ingredients are ones I just don't have on hand and wouldn't finish if I bought for a particular recipes – there are others that I already have on my menu plan. The avocado melt is one of those. It's a sandwich from FoodFarm in San Diego that includes an arugula walnut pesto slathered on thick bread with Swiss cheese, avocados, and bacon. My stomach is growling just writing that description.
And like every good – in my humble opinion – cookbook, (almost) each recipe has an accompanying photo to help draw you in and decide that yes, this is exactly what I want to make. There are only a very few exceptions in the book, and I was disappointed to see that there were some missing. I love photos of the food as it should be. I recognize that my end product may not quite look the same, but I know what I'm aiming for. Many of the photos also include the unique proprietors of each mobile-truck, making the whole story of the food come even more to life.
The recipes are listed by section in the book, ranging from mobile snacks to soups noodles & saucy things to sweet wheels. Within each section is a plethora of recipes that share the vendor and its location (so you can track down the real thing if you're so lucky) as well as James's quick story about the recipe and vendor and what makes it special. It's just another touch that makes this more than a simple cookbook and helps draw you into the recipes.
There is of course the requisite index so you can find the recipes you crave. And smartly, there is also a food truck finder. It lists the trucks alphabetically by name and shares their websites and social media handles. The only thing is doesn't include is where the trucks are located. Personally, I would also have loved to see an index of the trucks by location – because in addition to creating something from the trucks, I would love to visit the ones that inspire me. That information is there with each recipe, however, for which I'm grateful.
Written by Michelle who loves to cook but couldn't imagine actually owning a mobile-food truck. Instead, she dreams small and shares her recipes on her blog Honest & Truly!  You can also find her on Twitter where she is also @HonestAndTruly.