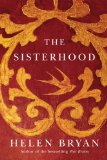 What do 16th-century Spanish nuns have in common with a young American college student in the 2000s? Menina Walker is about to find out. Her own story is interesting–found orphaned in an unnamed South American country after a hurricane, miraculously alive in a boat with a medallion shaped like a swallow around her neck, she is taken in by a convent and then adopted  by an American couple. Her life is all planned out–she is finishing up her dissertation on art history, planning a trip to Spain to research a little-known artist who's only known works are at the Prada, and planning her wedding.
All her plans come crashing to a halt when her engagement is broken off. She flies off to Spain with a broken heart, lands with a hangover, and decides to take a local bus instead of waiting for the next plane. When it leaves her stranded in a remote mountain village with no phone service or safe place to stay for a week, she finds refuge in a convent with the same sign of a swallow.
The Sisterhood
is told in two parts. One part is the modern story of Menina, the other is a tale of the 16th-century Spain during the Inquisition, and a plucky, hardy group of nuns who rescues 5 girls from its clutches and spirits them to safety in the New World. The stories are fascinating and the girls come from a variety of backgrounds–one a Jew, one escaping the clutches of a powerful man, one from a Muslim background, one a mistreated dwarf with a talent for needlework that saves her life. Just as interesting is their fate in the New World, where they must again use their wits to survive and thrive.
The Sisterhood
is almost a great book. The plot is gripping but realistic, the characters are moving, and it's just a good, fun read–kinda perfect for summer, actually. My only complaint is that it has this subplot, a la Da Vinci Code, that Christianity is founded on a lie and only this obscure little convent guards the truth from men who would do anything to stop this dastardly idea from spreading. Yawn. It detracted from what was otherwise a fun and original story.