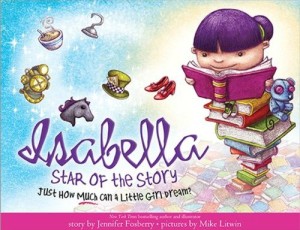 Isabella is back, and she's once again declaring her name to not be Isabella! Fans of the original My Name is Not Isabella (linked to our site's 2008 review) will be happy to find her joyfully using her imagination once again in Isabella: Star of the Story, a story by Jennifer Fosberry with pictures by Mike Litwin.
This time around, Isabella's pretending takes on a literary theme. As she and her parents head to the library, Isabella's imagination soars through six works of classic literature for children, including Peter Pan, Alice's Adventures in Wonderland, and Goldilocks and the Three Bears. Each time her parents and even the librarian address her, she takes on the identity of another fun character, describing her process of choosing library books in terms related to the various stories.
"I am Goldilocks, and I am searching for a book that is not too short and not too long."

"Well, Goldie," the father said, "then we should look for some fairy tales."

"ENCHANTING idea and even a little bit GRIM," the little girl said. "And my name is NOT Goldilocks."
A trip to the library ending with a pile of books being carried home is a theme that my children can definitely relate to, as will any book-loving kid. If all the characters and stories Isabella mentions don't ring a bell with young readers, Fosberry provides a description of each book at the end, giving readers additional encouragement to pick up the books for themselves. I have a feeling my kids and I will be trying out some classic literature this summer thanks to Isabella: Star of the Story!
Dawn's picture book obsession benefits her younger children quite well, and by the time they're ready to move out, she'll be able to easily fill an empty bedroom with nothing but books. She blogs intermittently at my thoughts exactly.