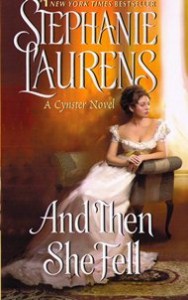 I love it when I find an author who writes books I enjoy reading and is a prolific author, especially when the books are light reads. Stephanie Laurens has been a favorite of mine since I found her when scanning through available titles on my online library. Stephanie has created an entire population in London of heroes and heroines who find their true loves in the early 1800s in London. And Then She Fell is the latest book following the Cynster clan where Henrietta finds her hero.
So yes, this is a romance novel. And yes, I enjoy reading it. Part of what I love about the Stephanie Laurens books is that they typically include something else to draw the reader in. It isn't just girl meets boy, girl chases after boy. Boy and girl are starstruck then realize they love each other and live happily ever after. There is usually a mystery or a purpose or some sort of major problem to solve. Plus, I enjoy that many of the books focus not just on the women in a family but on the men, too. In fact, the Cynster novels (I've read just about all of them) started by going through the male line. It's only more recently that the books have focused on the Cynster ladies.
And Then She Fell starts with the heroine Henrietta being told by her younger sister Mary that she has to wear the necklace that had been passed to her by her cousin Angelica eight years previously. The necklace is a family charm that helps the women find their one true love and must be successfully worn and used before being passed at the engagement ball to the next female of the generation in line. Mary is 22 and believes she may have found her hero and needs the necklace to verify the man, so insists that an unbelieving Henrietta start to wear it.
Henrietta agrees, though she doesn't believe in it at all. She is known as The Matchbreaker amongst the ton, as she advises women whether the men they are potentially going to wed are courting them for love or other reasons, information she can dig out thanks to her family's wide and deep web of information and influence within London's high society. That evening, she attends a ball where she lets her latest client know that her prospective husband needs to marry by June 1 to receive an additional inheritance that he hadn't mentioned. She leaves it to her client to determine whether there is love beyond the need to marry, but her client agrees quickly that there is no love and she wants to marry for love.
James Glossup is the young man who needs to marry by June 1, and he knows exactly why he's  given his walking papers by the woman he was courting. He confronts Henrietta, telling her how selfish she was as she didn't know the whole story. He had intended to tell the woman about his need to marry quickly before proposing and had believed her to not want to marry for love – something that still wasn't common yet in London's haut ton. Not only that, but the additional inheritance was money that he needed to keep afloat the farm and house his great aunt had left him a year prior – with his great aunt knowing that he would need the funds and hoping that this would push him into marrying. Henrietta agrees to help him find a bride, with just four weeks remaining.
Not surprisingly, the charmed necklace that Henrietta is wearing reacts to James, though Henrietta doesn't admit it. As Henrietta and James work together to find him a suitable bride in a short time, he doesn't want to admit to her that he's falling for her and she doesn't want to tell him to forget his potential brides and take her – the sister of his best friend, mind you – instead. Their romantic problems aside, Henrietta is plagued by accidents that James miraculously saves her from, until too many accidents occur for them not to be simply attempts on her life and they must work together to identify who wishes her dead and why.
And Then She Fell will never be a weighty literary work, but it isn't intended to be. I love that familiarity of the characters that I've grown to know over the previous 19 books in the series (plus a few offshoots), though you definitely do not have had to read previous books to enjoy and follow this one. I enjoy having books I can pick up and enjoy without guilt, something light and enjoyable but yet not mindless. Stephanie Laurens has managed to fill this need with all her books that I've read to date, and And Then She Fell continues to deliver. Now I have to wait to learn Mary's story in the next release.
In the interest of full disclosure, I received a copy of this book for review purposes. I was not otherwise compensated, and all opinions remain my own.
Michelle is a romantic at heart, though she's glad her romances were never quite as star-crossed – or as dangerous – as Henrietta's. See what holds her heart on her blog Honest & Truly! or follow along with her on Twitter where she is also @HonestAndTruly.