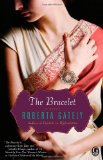 Nurse Abby Monroe finds herself at a loose end. Her long-term boyfriend just dumped her, and on top of that she  lost her job at a Boston hospital. Almost on a whim, she signs up for an immunization program with the UN at a clinic in Peshawar, Pakistan, near the Afghan border. On her way there, she spends some time getting briefed in Geneva. Out for a run one morning, she sees a man and a woman struggling on a balcony. The woman falls to her death. Abby is riveted by the sight, and by the brightly-flashing bracelet on the woman's wrist. But a few minutes later, she's fleeing herself, from the man who is looking for her. She sees the man remove the bracelet and his eyeglasses from the dead woman's grasp. Abby runs back to her hotel, but when she returns with the police, there is no body to be found.
Once she arrives in Pakistan, she continues to be haunted by nightmares where she sees the woman fall again and again. She lives alone in the UN house, with a daily housekeeper named Hana, who's surly and unfriendly, and a driver, Mohamed, who shows up occasionally. Her colleague Najeela is warm and gushingly friendly, and wants to prattle on about her secret boyfriend, a Swiss man highly placed within the UN, and take Abby shopping at expensive boutiques. When a Pulitzer-prize-winning reporter shows up to interview Abby, the two of them get off to a rocky start, but she soon realizes he has larger stories to pursue than simply an interview with an aid worker.
The Bracelet
follows Abby's journey from naive American (aside: sometimes her naivety is a bit unbelievable. Surely the UN would have briefed her?) to  a woman who bravely take risks to protect others. Her time in the refugee camp opens her eyes to the horrors of human trafficking, and the novel does a good job of presenting the issue. Abby begins to learn whom she can and cannot trust. The most compelling parts of the novel are her times at a rescue house with women who are willing to share their stories–the stories are horrible, gut-wrenching, compelling, disturbing, and ring sadly true, especially if you're at all familiar with real-life counterparts.
Abby gains more confidence, both in her work at the clinic and in her life in Peshawar. Her relationship with journalist Nick Sinclair grows from a mutual distrust to a real harmony, as together they work to break open a smuggling ring and rescue young women from bondage. Meanwhile, Najeela introduces her to her family, including her creepy uncle Imtiaz, grower of poppies, and her father, who is hoping to be the next president of Afghanistan. Najeela seems sweet and harmless, but after a while Abby isn't so sure.
Through it all runs the theme of the bracelet that Abby saw on the dead woman's wrist in Geneva, the one that constantly recurs in her dreams and eventually makes a reappearance in her story.
Author Roberta Gately has worked as a nurse in Afghanistan and other war zones, and her personal experience with life in that part of the world comes through and adds colour and detail to her writing. The Bracelet
is a gripping story, one that's hard to put down and that deals with real-life issues. Highly enjoyable.
Elizabeth enjoys books set in the Arab world. She lived in Muslim countries for nearly 10 years, and misses many of her friends and aspects of her life there. Learn more at her blog Planet Nomad.