**NOTE: This review reflects my experience with the materials and online features available at time of posting in March 2010. As of October 2010, the company appears to have closed, and the website is no longer available. The product may still be on the market, so potential customers should be aware of the lack of online features.**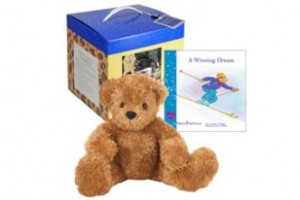 My children often see me with a book in my hands, which I hope adds to their growing understanding of the joy that reading can bring to a person, but it's also true that they see me looking at my little laptop screen for a time each day as well. My older son has a few online activities that he enjoys, but my 2 and 3 year olds haven't gone far beyond watching a few funny YouTube videos here and there with me. With our complimentary membership to My Story Time Friends, though, they now have a fun, age-appropriate, reading-centered site to explore with me.
When you join, you receive a kit that includes one hardcover book, featuring the characters of bears who live in Storytown, a cuddly plush animal, and membership to the website and Book of the Month club. Online activities include printable coloring and activity pages featuring the books' characters, monthly newsletters, audio versions of the books to listen to or download, and the opportunity to send messages to the book characters, among other features. While each month's new book is available online for free, payment for shipping and handling is required to receive a hardcover copy.
The book we received was A Winning Dream, written by Andrew Wolfendon and illustrated by Berne Williams, who collaborate on all the titles. The stories all appear to reinforce messages of hope, strength and perseverance, showing children through simple stories the power they have to achieve and succeed. The intended audience is the 3-8 year old crowd, and the books have been a bit over my 2 year old son's attention span, but my 3 year old daughter has requested to listen to the stories being read online several times. We have also explored some of the printable pages, which delighted my daughter! I also like the simple printable books that are available for beginning readers, which will be fun to use with my children in the coming months and years.
If you are interested in learning more about My Storytime Friends, visit their website to explore. With new content added each month, the site will continue to be dynamic, and the stories provide universal lessons that help to support what many parents already want their children to come to learn about dreaming, working hard and succeeding.
Disclosure: I was provided a complimentary kit and membership, which retails for $39.99.
Dawn and her crew live their own online life on her blog, my thoughts exactly.