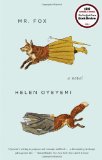 Mr. Fox figures as a Bluebeard-like character in English lore, and writer Helen Oyeyemi has a lot of fun with the concept in her most recent novel. St. John Fox is a writer who is confronted by his muse, Mary Foxe, who accuses him of killing off his female characters, one after the other. (A fun twist on the "real" Bluebeard/Mr. Fox/Reynaud, who of course killed actual women) In some ways she's his ideal woman, grown from an imaginary British voice in his head during the war which encouraged him to keep on, yet she confronts him with his neglect of his actual wife, Daphne. It's a love triangle of sorts, and there's definitely an element of magic realism. Mary Foxe and Mr. Fox play many different roles in the tales that follow. In one, she's a spinster nanny and he's a famous writer. In another, he's an actual fox and she's an old woman. In another, he's an Egyptian child and she's from somewhere unnamed on the same continent (I pictured a village in Mali or Mauritania myself) . In one, she kills him (and that's a tale about the death of love, and regret, and magic), but usually, he kills her, or she dies in some way. Some are undeniably creepy and dark, yet there is throughout a lightness and whimsicality to the writing that keeps the reader enthralled. Meanwhile, flesh-and-blood wife Daphne is growing more and more jealous of this imaginary woman, and wondering how real she actually is. Things take an unexpected turn at one point, where the 3 of them almost intersect. The tales are filled with foxgloves and literal foxes and references to Reynaud (the French version of Mr. Fox the legend) and more.
In many ways, it feels like we are looking through a prism, seeing the same characters from many different points of view, turning it round and round in our hands. Mr. Fox
explores themes of fable and folklore, of love and romance, yet also of violence, pain, and death–both physical and emotional.
Oyeyemi is a fantastic writer with a light, deft touch, and Mr. Fox
is a quirky, unique, and charming novel. Although it has been compared to Italo Calvino's If on a Winter's Night a Traveler
, don't let that put you off. It's more a series of connected short stories, some almost vignettes and others more fully fleshed-out, featuring the same people in wildly different roles. Ok, Mr. Fox
isn't for everyone, I'll admit that. But if you're looking for something a bit different, this book is captivating, charming, whimsical, and in surprising ways romantic.
Elizabeth loves new takes on old tales. Learn more at her blog Planet Nomad.