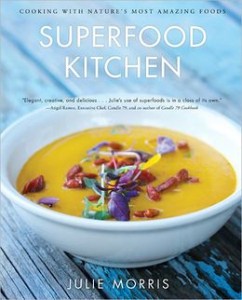 In the new year, we're all – mostly – looking to eat better, exercise more, and the like. I've started my personal exercise routine, and I already eat relatively healthfully, but I want to do more. And I'm ready to with Superfood Kitchen: Cooking with Nature's Most Amazing Food by Julie Morris.
This is more than just a cookbook. It is filled with all sorts of great information on the foods we should be eating for our health – what they are, why we should eat them, and how to use them. Julie has a great voice so that you feel like she's there with you helping you through the learning and cooking.
This won't be my go-to cookbook for everything. For one, the recipes are entirely vegan, and I need and want my meat and dairy and fish. But I also know that every dish in here is one that my dairy free daughter can eat, as can my friends who are gluten free – and I have many.
I love that Julie eases us into the how and the why, from explaining what the super foods are to where we should expect to use them. She also includes an index on where to find some that may not be in your local MegaLoMart, though most of the super foods are very readily available. And if they aren't? Julie also includes an index of cheating to substitute ingredients. Part Four has a ton of useful extras, including instructions on how to make nut and seed milks, something that's been on my to do list for a long time.
There are absolutely stunning photographs in the book of many of the recipes, but not all recipes are photographed, something I love to see in cookbooks. It helps me decide what I want to make and ensure that what I'm making is turning out as it should. Each recipe is also prefaced with how many servings it makes and a note about the origin of the recipe or other tips or tricks you should know.
This is a great New Year's resolution cookbook, and I have to admit that I'm excited to make maqui-cherry gelato – once I find lacuma powder and maqui powder. First up though is quinoa with secret pesto and sun-dried tomatoes. For that, I need only nutritional yeast, something I've been meaning to buy for other dairy free recipes for Little Miss – and I know my local health food store carries that.
I adore quinoa in general, and I'm always looking for new uses for it, but online recipe searches inevitably come up lacking. Superfood Kitchen has recipes from hot quinoa bowl for breakfast to quinoa spaghetti to cauliflower risotto to a tomato and quinoa soup, all of which have me excited to try.
I've tried a few of the recipes, and every one has been fantastic. They may have some unique ingredients and fancy (or scary, depending on your point of view) names, but even the wee ones have loved several of them. I know I'm not a fan of tempeh, so I haven't made recipes with it, but I could easily swap out beef or even chicken in those recipes.
That's part of what I love about cookbooks – they are inspirations rather than manuals. And I'm inspired to eat more super foods thanks to this cookbook!
In the interest of full disclosure, I received a copy of the book for review purposes. I was not otherwise compensated, and all opinions remain my own.
Michelle is busy in the kitchen, currently with some roasted garlic and butternut squash. See what else she's eating – and her progress towards her own resolutions – on her blog Honest & Truly! or see what she has to share on Twitter where she is also @HonestAndTruly.