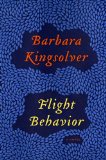 Barbara Kingsolver will chat live on Facebook and Twitter with the Sony Readers Book Club about her newest novel Flight Behavior (linked to Elizabeth's review). I have enjoyed Kingsolver's fiction, and was glad to hear that Elizabeth gave it 5-Stars. I can't wait to read it and join in the live discussion with the author. Sign up now on the Facebook page if you want to join us on January 16 from 12:30 – 1:30 PST. I'll be there!
And what's more, I am pleased to be hosting a giveaway, thanks to the Sony Reader Store, for an ebook copy of Flight Behavior. I plan to write up a separate post about how much I love my new Sony ereader that I was given as a part of being one of the VIP Readers in the Sony Readers Bookclub (short answers — VERY light, it just disappears into my hand, and the absolute ease of borrowing books free from my library system),  but if you don't have one, or perhaps you're not yet convinced that you would like an ereader (and let me just say — you're wrong about that — but that's an argument for another day) — you can read this ebook on your apple or android device on the Sony Reader Apps.

I do not like reading books on my laptop at all, but did you know that you can download reader apps for your computer (YOU might like that even if I don't), or your smart-devices including apple and android devices. Then, if you win the book, you can download it and read it, hopefully in time to join us on our chat with the author Barbara Kingsolver.
Even if you've never even considered an ereader, I encourage you to enter to win. You might try it out and be sold. And whereas I'm sure the reader apps work just fine, I hope it will convince you to become an ereader aficionado as I am.
To enter (code will work in U.S. only), please leave a comment below. You can say anything, but I'd love to know what you LIKE or DO NOT LIKE about reading books via an ereader or app. We'll announce the winner in our  December 26 book column, and you should receive the code shortly thereafter. The giveaway is closed.