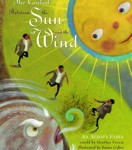 Looking for something a little bit more out of the ordinary for you to enjoy with your kids and grandkids? Here are a few to consider. The Contest Between the Sun and the Wind is Aesop at his finest. It is the classic tale of kindness to others retold by Heather Forest and intriguingly illustrated by Susan Gaber. It has a distinct multicultural feel to it, as do many of the books at August House publishers. I liked the fact that you have to turn the book around and hold it in different ways as you are telling the story in order to properly view the illustrations. A marvelous twist to a very relevant story.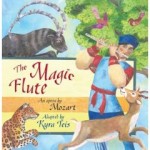 I have a hard time finding books about classical music that children will love. My husband happens to be a classical music enthusiast (I am not) and so I'm always on the lookout for books that will be enjoyable for daddy to read to the kids. I've found a lot of books on the symphony, of course, but not about the music itself. I finally stumbled across The Magic Flute, published by Star Bright Books. It is the well-told story of Mozart's Magic Flute, adapted by Kyra Teis. This book is accurate to the opera itself, making it very impressive. If you are studying classical music with your kids, you'll want to look for this book.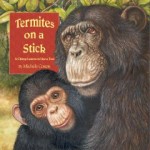 Although the title Termites on a Stick might not be particularly endearing, the story certainly is. Beautifully and scientifically illustrated by Michele Coxon, we spend our time with a young chimp who is learning his way in the world from his mother. My 2 year old son absolutely loved this book, I think, in part, because of the illustrations. Everything is very realistic which, in this particular case, drew him in to learn about chimpanzees. At the end of the book, which reads like a regular picture book, they include various facts concerning chimpanzees making this appropriate for ages 2 and up! We smile upon this book.
We're always exploring and discovering new books. Do you have a unique book that you would like to share with everyone? Leave a comment here and let us know of it!
Carrie comes by her book obsession honestly, having descended from a long line of bibliophiles. She blogs about books regularly at Reading to Know.