One of this site's readers tipped me off to Barefoot Books and I am now forever in her debt. See, we DO listen to the suggestions you have to make so leave comments when you agree or disagree with the thoughts contained in our reviews. Throw suggestions at us! We might just take them. In the case of Barefoot Books, I'm so glad I did.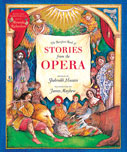 I've mentioned before that I have a hard time finding picture books on classical music stories. Hello Barefoot! They have published two titles in particular that I'm head over heels in love with. The first is Stories from the Opera and is a compilation of exactly what the title says – stories from the opera. There are seven stories told within these pages, all beautifully illustrated by James Mayhew. If you remember, my husband is the classical music buff around here and he was heartily impressed with this book. Not only are the stories good summaries, but it comes with two CDs featuring about 15 minutes of each opera. The back of the book also contains information on famous opera houses from around the world. This book is great. I'm excited about it because my husband is excited about it, pretty much! But that's good enough for me. He's pretty picky when it comes to anything related to music in general so to have his stamp of approval means a lot (at least to me).

The second book was Knick Knack Paddy Whack which, as you might guess from the title, is geared towards children too young to even attend the opera. In other words, I loved it and totally got into knick knacking the afternoon away with my son. Again, this book also comes with a CD featuring SteveSongs who first sings the song with you. The second track on the CD is just music for you to sing alone. Move over Wee Sing – SteveSongs has you beat! Knick Knack Paddy Whack is sung New Orleans style and each verse features one particular instrument from the guitar to the saxophone, the piano to the drum. There are ten verses and as you turn the page you see a new child on each page holding the instrument that is being introduced in that particular verse. For example, child one is sporting the drum, one of the chidren has the saxophone and so on and so forth. The rhythm is catchy, the illustrations drew my son in and we both enjoyed our time of it.
These are super great books and I so appreciate it when you readers grab my shoulders and shake me in your efforts to direct me to the attention new books. Keep doing it!
Carrie comes by her book obsession honestly, having descended from a long line of bibliophiles. She blogs about books regularly at Reading to Know.