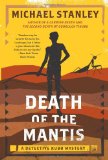 Set in the blazing heat of Botswana's Kalahari desert, Death of the Mantis
follows the tale of 3 murders that at first seem unconnected. Monzo, a ranger who doesn't get along well with his colleagues, was found in a dry river bed with his head bashed in–and the rock used to do so was found a short way up the riverbed, proving it wasn't done in the fall. He was discovered by 3 Bushmen, who were found attempting to pour water down his throat. Acting on the assumption that whoever is nearest the injured/murdered man is probably guilty, a policeman has them arrested. Kubu's old friend Khumanego, a Bushman who was educated with Kubu and with whom he'd formed an unlikely friendship, asks Kubu to get involved.
Detective David "Kubu" Bengu doesn't want to be stuck out in the sand and heat–he'd much rather be home, drinking South African wine and eating curry with his adored wife Joy and playing with their baby Tumi. But he just can't rest. He begins to investigate, when another body is found. Could there be a connection? And can he keep himself safe long enough to find out?
Death of the Mantis: A Detective Kubu Mystery
takes us into the world of the Bushmen; their philosophies on life, their view of death and the ancestors, their customs and habits. Now, the modern world is encroaching on their ancient habits, and Bushmen themselves are viewed with suspicion by the Batswana people as likely murderers and thieves. Author Michael Stanley looses bases part of the story on real life events, and the novel includes a journalist (friendly, attractive, female) who is there to investigate all the loose ends of the story. She's approached first by Khumanego, and she enters with a definite bias. It also shows us the developed cities of modern Botswana and neighbouring Namibia, where Kubu and his friends live and spend most of their time.
I loved this book. Kubu is a great detective, persistent and tenacious but down-to-earth and very human. His Botswana is neither sentimental nor unduly horrible; not the Africa of popular imagination where people still live in huts and are pretty much all dying of famine, nor the overly optimistic view that shows Africans only ever dancing and singing. The story is rooted in a specific place and time, and the characters are realistic and fleshed out. We see Kubu and Joy's marriage affected by their newborn daughter, whom they both love to distraction, and see their commitment to extended family as well.
Best of all, there is a winking reference to that other famous detective from Botswana–The No. 1 Ladies' Detective Agency
. (I have to admit that after reading Death of the Mantis
, I'm a bigger fan of Kubu. Perhaps this isn't fair, as I loved Precious Ramotswe and her adventures until about the 5th book, at which point they were all the same. So we'll call it a draw until I've read more of Kubu, but I have a feeling he'll win–he's not as quirky, but I am quickly suspicious of too much quirk.) Death of the Mantis
is the third in the Detective Kubu series, and I'm looking forward to catching up on the others.
Elizabeth must admit she does love a good mystery, and she's thrilled to have found a new series to love. Learn more at her blog Planet Nomad.