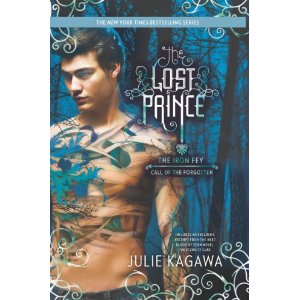 The Lost Prince is the first in a new Iron Fey series, The Call of the Forgotten.
Ethan Chase can see faery. He can see gremlins and goblins. He does everything he can to avoid them, and still they have gotten him in trouble, like when he was kicked out of school for setting fire to the library. In reality, it was faery, and he was trying to stop them. He fears them, because when he was a little boy, they stole him and took him to the Nevernever in order to lure his older sister Meghan there. It worked, and she became the Iron Queen. Her story is told in the Iron Fey series which began with The Iron King. I encourage you to check out that review, because much of what I said in that review is true of this book as well. It's a fast-paced, imaginative adventure, with a little romance thrown in for good measure.
Those who have read those first four books will enjoy seeing Grimalkin, Puck, Meghan and Ash, but they are in the background. This is Ethan's story, as well as the story of the Forgotten, a new faery. I'm not a faery expert, but because I read a fair bit of YA, I've also read about faeries and goblins in other works. Julie Kagawa has created a world that those who don't know about faeries learn their ways easily, and I can imagine that even the most dedicated fey fan would be kept interested. In each book, there's something new, and I continue to be amazed.
The Lost Prince takes place about 10 years after The Iron Knight leaves off. Readers do not need to have read that series to fully enjoy and appreciate this one, though if you like this book, you will likely want to go back. And since the 2nd book in this installment is not scheduled to come out for another year, you will have plenty of time to do that.
I highly recommend The Lost Prince to YA readers who enjoy fantasy, action, or romance. There's something for everyone! And though the covers might say otherwise, I honestly think that these novels would appeal to boys as well as girls.
CONTENT NOTE — These are intense books with some violence, and so I do recommend them for readers no younger than 12 or 13. There is also fairly frequent usage of mild swear words. The romance is tame, with nothing more than kissing.
Leave a comment to enter to win one of TWO copies of The Lost Prince, courtesy of Harlequin Teen, who also provided me with a review copy. U.S. and Canadian addresses are eligible. We will announce the winner in our November 7 book column. The giveaway is closed.
Find out more:
Don't miss a thing: Check out our current giveaways. Subscribe to our feed. Follow us @5M4B on Twitter or on Facebook.