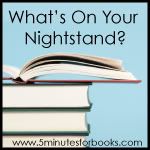 We want to know what your reading stack looks like. What are sitting on your nightstand because you are hoping to get to them this month? Or if you'd prefer, what books are sitting there waiting to be reshelved or returned to the library because you finished them this month?
How you do it is up to you. You can take a picture, post a list of links, or tell us how and why each book made it on your list.
However you choose, this is a time to join with other booklovers.
Would you like to share what your kids are reading? We'd love for you to join us in our monthly Kids' Picks carnival on the 2nd Tuesday of each month. The next one will be November 13. Come back and join us!
Check out our current giveaways. Subscribe to our feed. Follow us @5M4B on Twitter or on Facebook.