Just in time for Hallowe'en a whole slew of apps are showing up. omBooks has several great options aimed at different age groups. I decided to check out The Legend of Spookley the Square Pumpkin by Joe Troiano. Spookley is different than all the other pumpkins in the patch, he is square! He is teased and feels sad that he can't roll around the patch like all the round pumpkins. During a big storm it is up to level-headed (so bad I know) Spookley to save all the other pumpkins from rolling down the hill and crashing into the ocean below.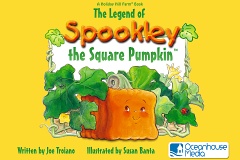 I really enjoyed this story about tolerance and self-acceptance. It gave my son and I another chance to talk about leaving others out and how bad it can feel. We have had this talk a few time and with 'new friends' at preschool it was perfect timing. He liked little Spookley a lot and the interactive elements of this app kept him very entertained. There is so much to tap and discover that you can spend some time really trying to take it all in. Each page has multiple sounds and voices. I love the spider who, obviously on the look out for his next fix, asks "whats a spider got to do to get some candy around here". The illustrations are very sweet and the narrator's voice is just spooky enough without being scary. The recommended age 2-8 is maybe a bit  young as the storm could be a little scary.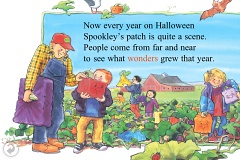 It's on sale now for just 99 cents. You can get it through itunes or amazon or other outlets for your android device.
Tennille lives in the Great White North with her hubby and two sons. She enjoys sleep but is learning to appreciate caffeine as a perfectly viable substitute.