Here at 5 Minutes for Books, we have a team of reviewers, so we are taking turns posting here for Mailbox Monday. I (Jennifer) was away last week, so I knew that would make for a dramatic return late Saturday night to piles of goodies. In addition to that, our trip was to Portland, Oregon home of one of my very favorite bookstores (linked to my thoughts on my personal blog Snapshot), so I knew we'd be buying some books there, and boy did we!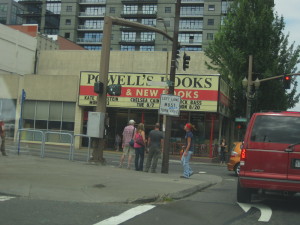 Knowing the reviewing commitments I already had and the stack of books that would come while I was gone, I opted to buy a T-shirt instead of books. My husband perused the sports and finance sections while I happily stayed with the kids in the children's and YA room. We left Portland when my oldest was 2, so I had no appreciation for the children's section. It's fantastic!
Amanda (about to turn 14) was able to get the Mortal Instruments City of Bones books 2, 3, and 4 in the series, which she's been unable to get at our library, because she found some good prices on some used ones.
Kyle (8) got 3 new/used Hank Zipzer books at $3.50 each (and has read 2 of them already on our trip!). He also got two Pokemon Manga Graphic Novels.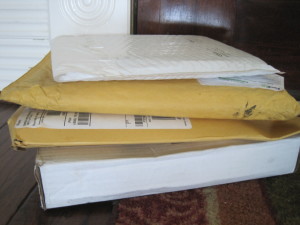 And this is what I had waiting for me, thanks to the neighbor boy who came by and collected all the things that UPS and FedEx dropped off while I was gone:
How about you? Have you visited a bookstore lately? Or received some ARCs that you can't wait to read? Link up below, or feel free to share your bounty in the comments if you don't have a blog.

We love connecting with other booklovers. If you feel the same, Subscribe to our feed. Follow us @5M4B on Twitter or on Facebook, and check out our current giveaways to feed your mailbox over the next month or so!