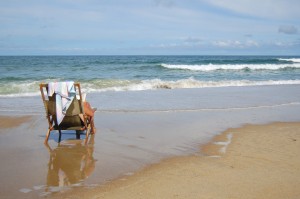 What is it about summer and reading? Like peanut butter and jelly, those two. My entire life, I've spent my summers with book in hand, parked under a tree, sprawled out on a hammock, or curled up on the couch basking in the A/C. And don't forget poolside– the perfect place for summer reading, in my opinion, though others would argue that the beach scene above fits the bill best.
When I returned to teaching last fall after a four year stint as a stay-at-home mom, I knew that my personal reading was going to take a hit. While I happily fit in reading during my commute, along with evening time when I didn't have a lesson plan to write or laundry to fold, I still read significantly less from fall to spring than I had in recent years. I looked forward to the coming of summer, and those times when I could read a book during the daytime, when leisure time presented itself on a much more frequent basis.
And it was good, I tell you. Now that my kids are older, I don't have to be next to them in the water when we go to the pool. Some afternoons, I joyfully lounged in a chair beside the pool and dove into a story while the kids splashed in the shallow end. The lifeguards kept their eyes on them the whole time, while I peeked up between scenes. Some afternoon's nap times saw me reading for an entire hour! All at one time! Even though mornings saw me up by 7:00 am, I didn't have to run right out of the house in the morning, so it was totally fine to stay up into the wee hours of the night reading in bed.
As of this weekend, my summer reading totaled twelve novels in nine weeks, along with some fun middle grade books and a couple pieces of nonfiction, to boot. I know those numbers are nothing compared to some book bloggers, but they represent an abundance of reading for me and my highest pace of the year. Once I head back to my classroom in a week's time, life will take on a different routine, one in which reading plays a minor role, fit in here and there when possible, but never really gets a chance to shine in the spotlight like it does during the dog days of summer.
That's why I'm already looking forward to forty-one weeks from now. Summer break will be upon me once again, and the books will be at the ready. Give me the slow life of the summer, a cool drink, and a book in my hands, and life is good.
Dawn toughs it out through eye strain and neck aches to pursue her love of reading. When she wants to put her own words together she does so on her blog, my thoughts exactly.