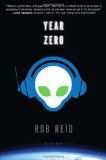 You guys, this one was just so fun!
Year Zero
opens with Nick Carter, a lawyer who was never a member of the Backstreet Boys and who thinks he is likely on his way out from his job at a fast-paced highly-competitive office that specializes in music copyright. He's at work when he receives two very odd visitors—one dressed like a mullah with red hair, and one dressed like a curvaceous nun, the sort that seem to show up in video games and never in real life. They present him with a unique problem. Apparently our attempts to reach life on other planets succeeded in 1977 with the show Welcome Back, Kotter. While aliens didn't appreciate our filming skills or sense of humour, they went into spasms of ecstasy at the theme song. Soon, they were tuning in to Earth's radio stations, which produced music far in excess of anything any other civilization had been able to. And since music is the highest of the 50 Noble Art Forms, well, you can imagine. They were so enamored with Earth's rock music that they restarted their Universal calendar to reflect the year that this music was discovered, so that 1977 our time became Year Zero everywhere else.
There is, however, a Universal Law that states that the laws of the civilization that produced an artform must be followed. Now, 2012 our time and Year 35 for the rest of the universe, aliens started coming out of their happy daze and realized that they owed every man, woman and child on Earth (with the exception of North Korea) just under 4 trillion dollars each in copyright violations, as they've been downloading and sharing our music out in the remotest galaxies. The mullah and the nun—they dressed like that because they've learned that our planet respects religion—are brother and sister Frampton and Carly from the planet Zinkiwu*, where life-forms are physically close to human. They've come to see if something couldn't be worked out with our lawyers, since there are certain trouble-makers that think they should simply destroy our planet to take care of the issue altogether. They did think they might have gotten THE Nick Carter, and are both a little sad when Nick has to reveal he was never in a Boy Band.
Of course Nick has to save the day, and of course that will involve more aliens, space travel, the cute girl who lives down the hall and is luckily a musician herself, his boss, and Bill Gates. (the story about Bill confirms something I've always suspected) It's an entertaining romp.
Year Zero
was an absolute delight. I giggled my way through it. The riffs on Microsoft alone were wonderful. It skewers lawyers, the music industry, music lovers, aliens, and more. This is a perfect book for a relaxing afternoon. I highly recommend it.
*sadly, wimpy planet names turn out to be way more common than cool sci-fi names. (from p.118)
 
Elizabeth already knew that the answer to life, the universe and everything was 42, and she has longed for a Babbelfish to help her out in everyday life. Learn more at her blog Planet Nomad.