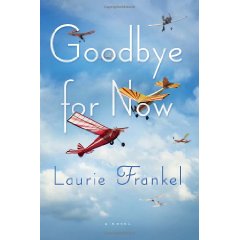 I was charmed from the first page of Laurie Frankel's novel Goodbye for Now.
We meet Sam, who is single but still looking for Ms. Right. As most singles of this generation do, he tries online dating. Perhaps you'll be as charmed by the first paragraph as I was:
Sam Elling was filling out his online dating profile and trying decide whether to laugh or cry. On the one hand, he had just described himself as "quick to laugh" and had answered the question "How macho do you consider yourself?" eight on a scale of ten. But on the other hand, the whole thing was really quite frustrating, and no one, he knew, ever admitted to anything less than an eight on the masculinity scale anyway.
Dissatisfied with the results, though he tries to be honest on his application, Sam writes an algorithm for the dating service he works for which guarantees to find the user's soulmate. He tries it out on himself, and after only a date or two, it's obvious that he and Meredith are a perfect match. Sam being there for her after her beloved grandmother's death, and Meredith supporting Sam emotionally when he loses his job because his algorithm is just too good (which equals less business for the dating service) kicks the relationship into high gear very quickly.
With time on his hands, Sam tries to use his algorithm prowess to bring Nana back to Meredith. He takes the electronic trail of her emails and the predictability of electronic communication to set up a program that will allow Meredith to email her grandmother and receive responses back from her. She's delighted and challenges him to do it one better with video chat.
As weird as it sounds, it comforts Meredith, and she wants to offer this technology to the world so that they too can give themselves time to let go of their loved ones. She and her flamboyant cousin and Sam start up a business, bringing the inevitable moral questioning of some.
Frankel's writing is lovely. It is warm and real, and yet disappears as the story unfolds, as did any logical worries about the reality of the possibilities of using artificial intelligence for such things. I can't wait to read more from her.
I did see the ending coming, but it fit. I was so charmed by these characters at this point that they could have done anything, and I still would have loved them.
If you like charming, slightly quirky novels, I can highly recommend Goodbye for Now, and am happy that the publisher has offered TWO of you the chance to win one (U.S. shipping addresses only please). Leave a comment below if you'd like to win. We'll announce the winners in our August 29th review and giveaway column. The giveaway is closed.

Jennifer Donovan loves being charmed by new book friends. She writes about real-life encounters with real people who charm her over at her Snapshot blog.
Don't miss a thing: Check out our current giveaways. Subscribe to our feed or video reviews on YouTube. Follow us @5M4B on Twitter or on Facebook.