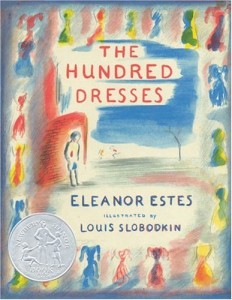 No, The Hundred Dresses
is not a new release. In fact, it's about sixty-eight years old. It can now rightly be called a classic (by some estimation) and is remarkable in that it has never been out of print. Written by Eleanor Estes, it has the additional distinction of having won a Newbery Honor award in 1945 and is in every way still relevant in today's society.
I purchased this book for myself over a year ago because I had never read it. I finally decided that I really must sit down and read it one afternoon when I felt the need to start and finish a book in a single sitting. (Raise your hand if you also know and understand the need to feel like a project has been completed in a decent time frame!!) I've read a few other titles by Estes but not this one. Sitting down with The Hundred Dresses
, I expected to be delighted but I did not expect to be emphatically in love with it!
If you are unfamiliar with the story, as I was, here is a brief description:
A young Polish girl named Wanda Petronski attends a public school and is constantly ridiculed by her classmates for wearing the same faded blue dress every day. Wanda is frequently asked in a teasing manner how many dresses she owns, to which she always replies that she has one hundred of them "all lined up in [her] closet." One girl in particular, named Peggy, takes particular delight in taunting Wanda and teasing her about what appears to be a most ridiculous claim. Peggy's closest friend, Maddie, feels uncomfortable with the teasing of Wanda, but never calls out Peggy for her meanness. In the end, during a drawing competition in which the girls in the class are to submit drawings of a dress they have designed, Wanda demonstrates the truth – that she did indeed have one hundred dresses in her closet. Unfortunately, the teasing by Peggy and other girls have driven Wanda to distraction and her family moves away to get away from the unjust situation.
In short, this is a story about bullying, which is a topic that is rather near and dear to a lot of folks these days.** As a reader (or a teacher) you might focus your attention on the character of Peggy who drove the crowd into a laughing frenzy by "having fun" with Wanda Petronski. I, however, was more taken by the character of Maddie who is Peggy's best friend. Maddie was consciously bothered by the treatment of Wanda but did not feel like she held any sort of position to turn the tide against the wicked behavior in order to make a difference and perhaps offer Wanda a little relief. After Wanda moves away, Maddie determines that she will never again stand silently by, watching another individual be maliciously and unjustly persecuted. She learns the hard way that it matters to defend those who cannot seem to defend themselves. I loved this particular passage in which we find Maddie awake in bed, pondering the situation between Peggy and Wanda:
"At last Maddie sat up in bed and pressed her forehead tight in her hands and really thought. This was the hardest thinking she had ever done. After a long, long time she reached an important conclusion.
She was never going to stand by and say nothing again.
If she ever heard anybody picking on someone because they were funny looking or because they had strange names, she'd speak up. Even if it meant losing Peggy's friendship. She had no way of making things right with Wanda, but from now one she would never make anybody else so unhappy again."
This book makes the point to the young reader what old readers still have a hard time grasping: words matter and they do have an effect.
What you decide to say to another person does matter. It can encourage and build them up or it can tear them down. In the Bible, Christians are commanded to think about our words, carefully choosing them and using wisdom on what we choose to say aloud to other people.
Let no corrupting talk come out of your mouths, but only such as is good for building up, as fits the occasion, that it may give grace to those who hear. Eph. 4:29

The heart of the wise makes his speech judicious and adds persuasiveness to his lips. Gracious words are like a honeycomb, sweetness to the soul and health to the body. Proverbs 16:23-24
We are supposed to stand up against injustice and be upholders of truth. And what, exactly was true in this situation for Maddie? Wanda was being harassed by Polly. Maddie "had the ear" of Polly and could have addressed the issue, calling her out for her mean attitude towards. Maddie saw that Wanda was being cruelly treated and stood silently by, doing nothing. As Estes correctly points out in this story, that makes Maddie just as much to blame as Polly, as she clearly understood the difference between right and wrong. Maddie failed to uphold right.
He has told you, O man, what is good; and what does the Lord require of you but to do justice, and to love kindness, and to walk humbly with your God? Micah 6:8

He who justifies the wicked and he who condemns the righteous are both alike an abomination to the Lord. Proverbs 17:5
While I do think this is an appropriate and important book for young children to read, I think older people could stand a reminder in story form as well. We are no less cruel in our adult lives than we were as children, barring the conviction of sin, repentance for our wicked words, and heartfelt change. It is hard to stand up for what we know is right when those around us are behaving and speaking (in unity!) against the very things we believe in. Practically speaking, how often have you stood by silently and listened to one person "bad mouth" another without saying anything, even when you know what is being said is untrue? How many times have you been too afraid to correct false assumptions in another, for fear of losing a friendship or a certain amount of dignity or respect? We care far too much about how people perceive us and far too little about standing up for truth and actively warring against injustices. This book is a good reminder to all of us, in a simple manner, that what we say and/or do not say will have consequences.
If you cannot tell, I am seriously impressed by this work and you can bet that I'll be pulling this (short, 78-page read) down off the shelf to read with each of my children. Parable-like in its presentation, this book packs a powerful and thoughtful punch and is worthy of a read!
Note: The Hundred Dresses
is earmarked for ages 6 and up. I think that's just about appropriate!
**Related Posts
Carrie enjoys reading books both old and new and reviews them both over at Reading to Know.