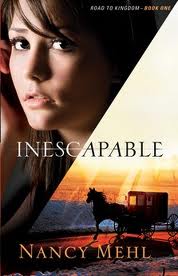 Inescapable
is the story of twenty-three year old Lizzie Engel, who had fled her Mennonite hometown of Kingdom, Kansas, shortly after the birth of her daughter, Charity. The pain of growing up with a strict and unforgiving father was only compounded by the shame of having a baby out of wedlock, so Lizzie has tried to make a new life for herself in Kansas City. She thought she had found a safe haven at the Harbor House, a shelter for abused women.
Sylvia, the director there at Harbor House, had taken Lizzie under her wing, giving her a job and helping her adjust to life in the "real world." Unfortunately, Sylvia has now resigned for health reasons, and her replacement seems intent on making Lizzie's life miserable. She has even gone so far as to accuse Lizzie of stealing money from the shelter. This, combined with the stalker who has been following Lizzie and leaving her threatening notes, forces her to do the unthinkable—return to Kingdom.
To find out more, click over to my full review of Inescapable
at 5 Minutes for Mom, where you can also enter to win a copy of this inspirational and suspense-filled novel.
You can also celebrate with Nancy by entering her "Inescapable" Giveaway and connecting with her during the Author Chat Party on 7/26!
One winner will receive:
A Handmade Mennonite Quilt
A copy of Inescapable by Nancy Mehl
Enter today by clicking one of the icons below. But hurry, the giveaway ends at noon on July 25th. Winner will be announced at the "Inescapable" Author Chat Facebook Party on 7/26. Nancy will be hosting a book chat, testing your trivia skills (how much do you know about the Mennonites?) and giving away some great prizes!
So grab your copy of Inescapable and join Nancy on the evening of the July 26th for a chance to connect with Nancy and make some new friends. (If you haven't read the book – don't let that stop you from coming!)
Don't miss a moment of the fun – RSVP today. Tell your friends via FACEBOOK or TWITTER and increase your chances of winning. Hope to see you on the 26th!
A longtime fan of both Christian fiction and suspense stories, Trish blogs at In So Many Words.