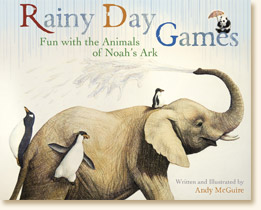 Rainy Day Games: Fun with the Animals of Noah's Ark, published by Harvest House Publishers, is a cute way to relieve boredom in your younger kids as we're heading into the fall and winter months. The premise of the book is that the animals on Noah's Ark were cooped up inside with nothing to do for a period of long, rainy days and nights. Andy McGuire suggests that the Noah and his family found ways to entertain themselves and the animals during this time and gives kids some options and ideas of games that they might consider playing when it is impossible to go and run about outside. From trying a zebra maze, hide-and-seek (although "chameleons can be tough to beat"!), rhinoceros ring-tosseros, and blindmole's bluff, there are plenty of ideas and activities to think of engaging in.
When I first saw this book I thought that it would give detailed ideas and explanations for various games that could be played. Instead it reads as a picture book and merely offers suggestions for potential activities. Your child would have to have an active and engaged imagination to utilize this book well. However, for any kid that enjoys mimicking animals and reading picture books, this should spur them on to some fun activities of their own and will hopefully alleviate some of those rainy day blues.
This is a cute book. I'd probably suggest it for kids ages 3-6. Anything is worth a try on a day when you and the kids are cooped up, right? I'm looking forward to making good use out of this book in the not-too-distant future.
Carrie comes by her book obsession honestly, having descended from a long line of bibliophiles. She blogs about books regularly at Reading to Know.